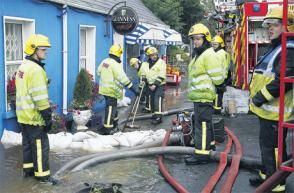 A heartfelt plea is being sent up to a higher power on behalf of stricken farmers.
After a miserable summer of record-breaking rainfall, farm families are facing massive financial losses -- as they struggle to salvage this year's crops.
The dire situation has caused the Bishop of Ferns, Dr Denis Brennan, to intervene -- by calling on all priests in his diocese to pray for fine weather to keep farmers afloat.
The heavy rainfall, meanwhile, put emergency services on standby as flooding struck many parts of the country, with Limerick and Kerry among the worst-hit counties.
A number of festivals and events have also fallen victim to the deluges, including racing at Killarney and animal welfare group the ISPCA's annual festival.
Organisers' of the agricultural show in Piltown, Co Kilkenny, meanwhile, were forced to reschedule the event.
Serious
As almost an inch of rain poured down on Valentia, Co Kerry in just 12-hours, Bishop Brennan called on his priests to do their bit to get God onside in the midst of the key harvesting period -- by offering prayers at all Masses in Ferns during the month.
"This current spell of very bad weather is causing added pain and anxiety to people already under pressure," said Bishop Brennan yesterday, "and it constitutes a real threat to the livelihoods and well-being of many in rural areas."
Teagasc crops specialist Jim O'Mahony warned the situation was getting "progressively worse" as virtually all the cereals were now ripe for cutting.
"Financially, this will turn out to be the worst year in three to four decades,"
he predicted.
Around 150,000 hectares or more than half of farmers' crops remain uncut in the fields. The crops are deteriorating in value by around 5-10pc per day.
"If it continues bad for another week the losses will be very, very serious," he said.
Met Eireann's Aidan Nulty confirmed there was a hint of a settled spell approaching. But he cautioned that it would be another few days before meteorologists could firmly predict whether drier weather was on the way.
The heaviest rain descended in Munster and Leinster yesterday, with Shannon Airport suffering 8mm of rainfall in just one hour.
Limerick County Council workers were deployed to Athea after several homes and businesses around the square in the village were evacuated.
The town of Newcastle West, Co Limerick -- which suffered millions of euro of damage from floods last year -- was also on the alert after water levels rose two feet in a number of hours.
In neighbouring Kerry, flash floods saw the Civil Defence and units of the fire service working to remove more than a foot of water from the main streets of the historic village of Ardfert, while severe rainfall in Killarney caused traffic chaos.
Louth County Council also responded to an embankment falling onto Slane Road, just outside Drogheda, Co Louth.