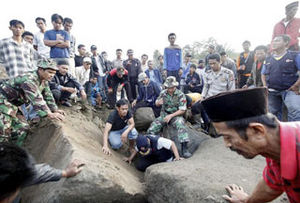 The death toll from Wednesday's 7.3 magnitude tremor in Indonesia's Java island has hit 46 while many others remain trapped under debris.
In Cianjur district south of the capital Jakarta, rescue workers, joined by police and army, are searching for people buried under the rubble, digging them out manually with hoes, while authorities hope to bring in the heavy machinery soon.
"There are 46 people dead (across Java) and about 42 are still buried in Cianjur. Their chances of surviving are slim," disaster management agency spokesman Priyadi Kardono told AFP.
In the village of Cikangkareng, the earthquake caused landslides burying a dozen houses some 20 meters under.
"You can't see the roofs at all, everything is completely buried. The chance of anyone surviving is very, very small," Kardono said, adding only motorcycles could get through the cut off road to the village.
Disaster agency official Maman Susanto said nearly 18,000 houses and buildings were damaged in the quake that was also felt in Jakarta and other Indonesian islands, including Bali and Sumatra.
The earthquake also prompted a tsunami warning from Indonesia's meteorology and geophysics agency, which later retracted the warning after it became clear there was no danger.
Agency technical chief Suharjono said aftershocks of up to 5.0-magnitude continue but are unlikely to cause serious damage.
Indonesia sits on the 'Pacific Ring of Fire' -- where several tectonic plates meet -- and is prone to disastrous tsunamis, like the one that hit southern Java in 2006, leaving 596 people dead and about 74,000 others displaced.
In 2004, a massive tremor off the coast of Sumatra triggered a catastrophic tsunami that killed more than 200,000 people around Asia, including 168,000 in Indonesia.