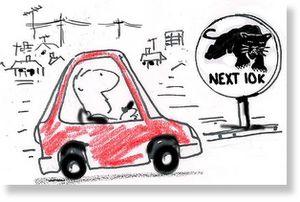 If you see a 50-kilogram black panther prowling the wilds of Sydney's west, you are not going mad.
Not only does Nathan Rees believe the elusive fanged feline exists, but so do government scientists who want warning signs to be erected to keep children safe from the clutches of the cat's claws.
While there is no scientific proof the panther does roam in the Hawkesbury area or the Blue Mountains, a secret government report says its "presence cannot be discounted" and people should be on alert.
Just like Bigfoot, which has allegedly stalked the forests of North America for decades, and the Loch Ness Monster, believed to call the Scottish Highlands home, the black panther has been terrorising Sydney for years.
The Government's report, which came after the Premier last year confessed he thought the panther was more than just an urban myth, says there have been more than 300 reported sightings of the cat in 10 years.
Farmers have complained the panther has killed horses, sheep and cattle and it has also been blamed for the unexplained deaths of countless dogs, cats and chickens, leaving some parents fearing for their children's safety.
"Children now allegedly cannot walk from the bus stop without an adult and feel the need to carry an umbrella (rain, hail or shine) to make them appear large," the report says.
But it says some residents, especially in the Grose Vale area, are now less than keen to report sightings of large unidentified cat-like animals roaming in their neighbourhood for fear they would be seen to be "mad".
Far from thinking they are mad, the Primary Industries Minister, Ian Macdonald, will ask his department to continue collecting sighting reports and the Department of Education may be asked to teach students about panther danger.
The report, not publicly released but leaked to a newspaper, concludes that even though scientific testing hints the panther is a figment of people's imagination, a massive cat may well call the bush home.
"It seems more likely than not on available evidence that such animals do exist in NSW."
Rex Gilroy, the president of the Blue Mountains UFO Research Club and founder of the self-funded Australian Panther Research Centre, said he had had more UFO sightings than panther sightings but was not surprised the government report had been focused on the latter.
"To see the government people, the top echelon, finally doing something - that makes me very happy."