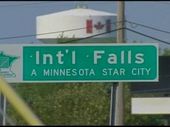 Another morning, another record low temperature in International Falls.
Temperatures in the northern Minnesota city fell to 35 degrees Monday morning - easily breaking the old daily record of 39, set on July 13, 2007, according to the National Weather Service.
It's the second consecutive day of record-low temperatures in International Falls; the morning low on Sunday also was 35 degrees. Monday's low was the eighth record daily low temperature recorded in the city this year.
Other low temperatures reported around the region Monday morning included 34 at Embarrass; 36 at Crane Lake, Bigfork, Hayward and Floodwood; 37 at Hibbing, Orr and Upson; 38 at Kabetogama; and 39 at Cook, Aitkin, McGregor and Butternut.
The low temperature at the Duluth International Airport this morning was 49.