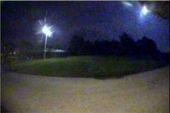 "Meteorite Man" Steve Arnold is still looking for those key eyewitness reports that could point him toward any remnants of the July 6 Mason-Dixon Meteor that may have survived the fall to Earth.
Arnold has read through more than 100 comments from Weather Blog readers who saw or heard the meteor, and he's singled out more than 30 that were detailed enough to suggest that just a little more information might help point him to the impact zone.
That's Arnold below on Wednesday, kneeling in front of the Water Co. security apparatus that captured video of the meteor as it fell east of York, Pa. Monday morning. (
Click here
to see the video.)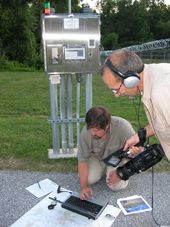 The camera itself is the dark gray object attached to the bottom of the silver box. The videographer at right is TV producer Bob Melisso, who is filming Arnold's search on behalf of the Science Channel program "Meteorite Men."
Here's what he's asking for. And below his note are the names of the commenters he wants to hear from.
For those of you that saw the fireball, please reply with the following details:
The address (including city and zip code) where you saw it?
What direction you were facing when seeing it?
If you were indoors, and saw it through a window, what direction the window was facing?
What direction the fireball appeared to be heading from your perspective?
If you saw the fireball burn out, could you pinpoint exactly (or close to) the direction it extinguished?
Was there a landmark between you and the fireball that helped you positively pinpoint the direction it was from you when it quit burning?
If you heard a sonic boom, how long was it between seeing the light and hearing the sonic boom. What other details that are relevant.
Please send the details directly to Steve at MeteorHntr@aol.com
The WeatherBlog commenters he'd like to hear from are:
Siobhan, in West Chester, Pa.; M Gaines, in Lancaster, Pa.; Matt B, in Bel Air; Melissa Tillery, who was driving on I-70 near Hagerstown; Sam Luther, who was camping near Delta, Pa.; John, in rural northwest Harford, Co.; Diane, in Port Deposit; Chuck and Nikki, in Port Deposit;
Raquel, in Bergen County, N.J.; Nicole Green, in Pikesville; Myranda Warfield, in Jefferson; Mike and Julie, in Forest Hill; DJ, in Bel Air; Kimberly, in Forest Hill; DCD, in Littlestown, Pa.; Lisa Ewing, in Port Deposit; Karen Haney, in Hickory, north of Bel Air; Jenny Gresock, in Seven Valleys, Pa.;
Frank Memmo, in Churchville; Ashley Simpson, in Arnold; Chris, in Conowingo area of Cecil County; Kristen B., in Forest Hill; Dale, in Forest Hill; Tom D., who was southbound on I-83 in York, Pa.; Matt Bureau, in Greensburg, Pa.; Timothy Jones, in Philadelphia;
Chelsea, in Forest Hill; Terry, in Earlesville; Sue, in White Marsh; and HC, who was southbound on I-83 near Glen Rock, Pa.
Thanks. We'll keep you posted on any progress in the meteorite hunt.
And while we're on the topic, NBC on Sunday night will air yet another movie about a meteor headed for the Earth, and beautiful scientists racing to save the planet. It's called, "Meteor," of all things, and it starts at 9 p.m. on WBAL Channel 11 in Baltimore.
Jason Alexander ("Seinfeld's" George Castanza) is among the cast.
Come back here after it's over and let's see how many scientific errors we can list.