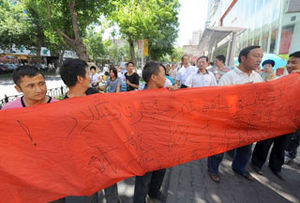 Chinese President Hu Jintao and nine top leaders from the ruling Communist Party say they will 'severely punish' those involved in the Xinjiang unrest.
"The planners of the incident, the organizers, key members, and the serious violent criminals must be severely punished according to law," Xinhua news agency quoted the top leaders as saying at a meeting on Thursday.
The summit commenced -- upon Hu's order -- in the wake of the unrest in Muslim majority Xinjiang, which was identified as "the most important and pressing task."
The policies of the government in Beijing have encouraged an increase in the Han population in the northwestern Chinese territory of Xinjiang.
As a result of the policies, the balance of the population in the region has been upset and acts of violence have emerged against the Muslim Uighurs.
Riots carried out in protest at the situation left 156 people dead on Sunday.
The president curtailed his trip to Italy for the G8 summit and returned home yesterday to deal with the deadly crisis.
Thousands of troops have been deployed in the city of Urumqi in Xinjiang Province to prevent further violence.
Police resorted to the use of force to stop the riots and detained nearly 1,430 people.