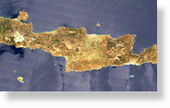 An earthquake of 6.4 magnitude on the Richter scale, felt as far afield as Cairo, Egypt, has been recorded on the Greek island of Crete, according to www.earthquake.usgs.gov
The exact epicentre has been triangulated at 125 km SSE of Iraklion, Crete, 195 km SE of Hania, Crete, 275 km NNE of Tobruk, Libya and 445 km SSE of Athens.
Conflicting media reports claim that the earthquake was as high as 6.7 in magnitude, whereas the Associated Press has given its strength as 5.9.
The earthquake was detected at 12.30pm Bulgarian time, the epicentre being 30km below the sea surface.
There are no official reports of structural damages or casualties as yet.