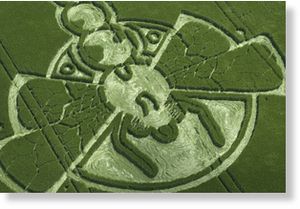 A dragonfly the size of a dragon has landed in a farmer's field - in the second astonishing animal-style crop circle to appear this week.
The intricate 150ft insect pattern appeared overnight in a barley field near Yatesbury, Wiltshire, just days after a jellyfish design was mysteriously cut into crops in Oxfordshire.
When the 600ft Portuguese man-of-war turned up near Kingstone Coombes, Oxfordshire, crop circle author Karen Alexander said: 'This is the first jellyfish crop circle in the world. It is absolutely huge - roughly three times the size of most crop patterns.'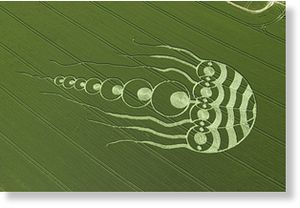 She added at the time: 'We are looking into the meaning of it, but at present it just seems to have appeared out of nowhere.'
But now the arrival of the dragonfly suggests these two designs may herald a summer of crop circles highlighting environmental issues.
Mrs Alexander's photographer husband, 50, from Gosport, Hants, said: 'Some years you do get themes developing and often you are looking for why this happens.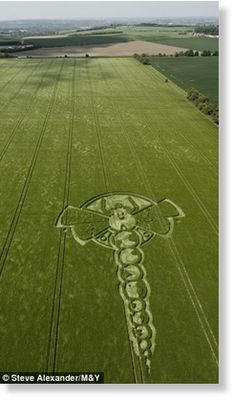 'It could be to reflect the status of the world at the moment with its financial, political and more importantly, environmental problems.
'I imagine this will not be the last one we will see this summer - and it has already been a busy summer for spotting them as they are well ahead of schedule.'
Crop circles generally appear in July and August but four have already been found this year in barley fields from Wiltshire to Oxfordshire.
Last week a 350ft yin-yang symbol was cut into a barley field near Devizes, a crop circle hot spot.
The animal designs are not strictly circles, of course, and are a long way from the simple shapes that appeared in the 1980s and gave rise to the name 'crop circle'.
Some argue that crop circles are the work of artists with access to computers and plenty of volunteers - but enthusiasts say summer nights are just too short to accomplish such complex work secretly.
Sceptics might suggest that someone in Oxfordshire is trying to muscle in on Wiltshire's dominance in the crop circle stakes - from April to the September harvest the mystery patterns are believed to bring millions of pounds in tourism to the western county.
But the fact that many appear on ancient 'ley lines' leads others to believe they carry a mystical meaning.
Mr Alexander, who has been studying crop circles with his wife for 15 years, added: 'People believe they will increase in frequency up to 2012 where there will be some kind of cataclysmic world event.'