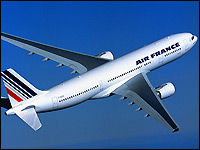 An Air France jet carrying 228 people from Rio de Janeiro to Paris lost contact with air traffic controllers over the Atlantic Ocean, an Air France official said Monday. Brazil immediately began a search mission off its northeastern coast.
Air France says the Airbus A330 sent an automatic signal indicating electrical problems while going through an area of strong turbulence. The plane "crossed through a thunderous zone with strong turbulence" at 10:00 p.m. EDT Sunday, the company said in a statement.
"An automatic message was received at 0214 GMT [10:14 p.m. EDT Sunday] signaling electrical circuit malfunction," it read. The plane entered service in 2005 and last underwent maintenance April 16.
Air France Flight 447, an Airbus A330, was carrying 216 passengers and 12 crew members, company spokeswoman Brigitte Barrand said.
The plane disappeared about 186 miles northeast of the coastal Brazilian city of Natal, near the archipelago of Fernando de Noronha, an air force spokesman said. Brazil's air force said a search began Monday morning near Fernando de Noronha, he added, speaking on condition of anonymity in keeping with Air Force policy.
An official with the French government's transport agency said contact with the plane was lost at 10:20 p.m. EDT Sunday. The official was not authorized to be named according to agency policy.
Barrand said the airline installed an information center at Paris' Charles de Gaulle airport for the families of those aboard.
"Air France regrets to announce that it is without news from Air France flight 447 flying from Rio to Paris," she said. "Air France shares the emotion and worry of the families concerned."
The flight was scheduled to arrive in Paris at 5:15 a.m. EDT, according to the airport.
Airbus declined to comment until more details emerge. French President Nicolas Sarkozy expressed his "extreme worry" and sent the junior minister for transport, Dominique Bussereau, and Environment Minister Jean-Louis Borloo to Charles de Gaulle airport to monitor the situation.