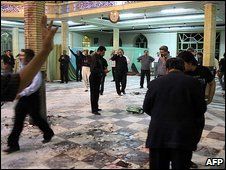 The Jundullah terror group has claimed responsibility for a terrorist attack that killed at least 25 people in southeastern of Iran.
The group's spokesman Abdolrauf Rigi contacted the Pakistan-based office of the al-Arabiya television network to report a bombing in a mosque in the Sistan-Balouchestan province. The group reportedly claimed responsibility for the attack.
A bomb blast rocked a mosque in the city of Zahedan on Thursday night as mourners participated in a ceremony marking the death of the daughter of the prophet of Islam.
The bloody attack injured 125 others.
A second explosive was also defused at the mosque within minutes of the explosion.
Iranian officials condemned the attack,
calling it in line with attempts to divide Iranians, specifically just before the June 12 presidential election.
In a Friday statement, the Leader of the Islamic Revolution, Ayatollah Seyyed Ali Khamenei, expressed his deepest condolences and warned against such seditious acts.
Blaming Iran's enemies and their intelligence services for trying to sow discord among Muslims, the Leader said the terrorist attack was designed to destabilize the country.
Tehran's Interim Friday Prayers Leader,
Ayatollah Ahmad Khatami, put the finger of blame on the US and Israel, calling the attack "a scheme to drive a wedge between the Shia population and the Sunni minority in Iran."
US State Department Spokesman Ian Kelly, however, denounced the bombing and rejected the notion that the US had had a hand in the attack.
The attacks came as the Jundullah terrorist group said earlier that they were planning new acts of sabotage ahead of the election.
In a message, the group's ringleader Abdolmalek Rigi recently called on Sunni clerics to discourage people in Sistan-Balouchestan province from participating in the upcoming election, threatening them with assassination should they encourage voter turnout.
The Pakistan-based terrorist organization denies having any link to Washington but ABC news reported in 2007, citing US and Pakistani intelligence sources, that the terrorist group "has been secretly encouraged and advised by American officials" to destabilize the government in Iran.
Investigative journalist Seymour Hersh revealed another report in July 2008 that US congressional leaders had secretly agreed to former president George W. Bush's USD 400 million funding request, which gives the US a free hand in arming and funding terrorist groups such as Jundullah militants.