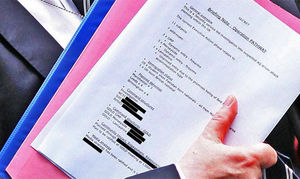 Gordon Brown is asking Pakistan for help after the arrest of 12 al-Qaeda terrorist suspects in Britain last night.
The results of Operation Pathway, the co-ordinated raids brought forward to yesterday after a security breach by Scotland Yard's counter-terrorism chief, have raised considerable alarm because 11 of those arrested were Pakistanis who have been staying in Britain on student visas. There are fears that they came to the country as genuine students before plotting to mount a terrorist attack, or even that they arrived under that guise with the intention of forming a terrorist sleeper cell.
As police continued the search for bomb-making material, the Prime Minister said that they were dealing with "a very big terrorist plot". The students' identities prompted him to highlight the connection with Pakistan. Contact has already been made with the Pakistani authorities to try and trace a direct link with known al-Qaeda figures living in the tribal areas of the country.
Mr Brown said: "We know that there are links between terrorists in Britain and terrorists in Pakistan. That is an important issue for us to follow through and that's why I will be talking to President Zardari about what Pakistan can do to help us in the future."
The Prime Minister's public reference to Pakistan drew a response from the Pakistani High Commission in London. Asif Durrani, acting High Commissioner, said it was unhelpful to "finger-point" and insisted that Britain and Pakistan were cooperating in dealing with the latest allegations.
He told
The Times
: "I don't think the Prime Minister has pointed the finger at Pakistan - finger-pointing won't help because both our countries are victims of terrorism. Pakistan and Britain are cooperating all the time, including in this latest operation."
Security sources said that evidence of students in the latest alleged plot added yet another element to the widely different profiles that emerged from previous terrorist operations in Britain. They also revealed that the police had gone ahead with the arrests in Manchester, Liverpool and Clitheroe in Lancashire after evidence emerged from intelligence operations of a "clear intent and capability" to carry out a terrorist attack.
Although there was

no indication

of where or when the suspects

might

have launched an attack, the threat was

considered

grave enough - and

sufficiently

imminent,

possibly

even over the Easter weekend - to justify the arrests.
A judgment had to be made, the sources said, between pursuing the
intelligence operations led by MI5
and making arrests because of the potential risk to the safety of the public.
The raids were planned for the early hours of this morning, and hundreds of police officers across the northwest had been briefed to carry out the arrests at the suspects' homes, forcing entry into the buildings where they were known to be living.
But they were brought forward after Bob Quick, who resigned this morning as Assistant Commissioner of the Metropolitan Police, inadvertently revealed details of the operation to photographers in Downing Steet. The notes were typed on a clearly visible document that he was carrying under his arm as he went in to see Mr Brown and Jacqui Smith, the Home Secretary.
As soon as the photograph was published, Scotland Yard and MI5 moved to quash its publication by issuing a rare D-notice to media organisations. Recognising, however, that the operation had already been compromised, they decided to carry out the raids in broad daylight. The operation began at such short notice that
officers needed a running commentary from undercover MI5 surveillance specialists to inform them of where the suspects were.

Comment: Far more likely is that the operations were meant to be carried out in broad daylight.


In his resignation statement, Mr Quick said that he "deeply regretted" jeopardising the raids, which followed a lengthy covert surveillance operation.
Speaking on a visit to Carlisle, however, Mr Brown said that the raids had been successful. He added that he had spoken to Mr Quick and thanked him for his years of service.
Mr Brown said: "He has made his apologies and was very concerned that an apology was made for a blunder that happened, but we must remember the context of this: we are dealing with a very big terrorist plot; we have been following it for some time; there were a number of people who are suspected of it who have been arrested. That police operation was successful."
A Metropolitan Police spokesman confirmed that Mr Quick had resigned not just from his job but from the force, which he joined in 1978. After more than 30 years' service he will be eligible for a full index-linked pension, expected to be more than £100,000 a year, even though he is still only 49.

Comment: A nice little pay-off for his role in yet another stage-managed event!


Mr Quick will be replaced by Assistant Commissioner John Yates, who has no direct counter-terrorist experience but is considered one of Scotland Yard's strongest operational leaders. Mr Yates led the Met's cash-for-honours investigation in the last year of Tony Blair's premiership.