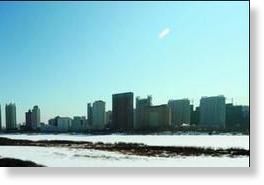 Mainstream media outlets including the government controlled 'Xinhua News Agency' are reporting a stunning UFO sighting that occurred in the Northern Chinese city of Harbin and was witnessed by many local citizens.
At 9pm on March 20 of this year a group of teachers from a local sports institute were driving along the Jiangnan Highway over the Songhua River when they noticed the most unusual glowing disc-like object with a white tail travelling above them in the sky. One of the teachers, a Mr Yin, managed to get a photo on his mobile phone camera.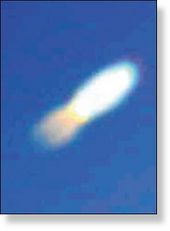 At first the teachers thought it was a plane but it disappeared within minutes of being sighted. Luckily the UFO showed up on the mobile phone camera image. The teachers later learned that many in the city of Harbin had seen the object and called into radio stations and local UFO hotlines.
Strangely, shortly after seeing the object the teachers complained of dizziness and one of the group was rushed to hospital having almost fainted and suffering high blood pressure at the same time.