A six-pound chunk of charred metal blasted through the roof of a house in Southeast Oak Cliff Tuesday evening.
The object crashed through the second floor of the home in the 7800 block of Buford Drive before coming to rest in the kitchen on the ground floor.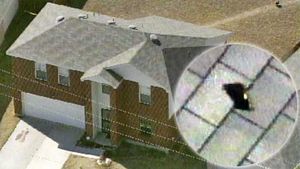 No one was home at the time of the incident and there were no injuries.
The Dallas Fire-Rescue biohazard unit checked the unidentified flying object for radiation and found none.
Police say they have no idea what the metal is or where it came from. State and regional officials have been notified.
Investigators say they are not aware of any other reports of similar activity in the area.
Two large man-made satellites collided in orbit over Siberia on February 10, and military officials have been on alert since then for possible falling debris.
A large meteor fell to earth near Waco on February 15, and the fireball could be seen over a wide area of North and Central Texas.