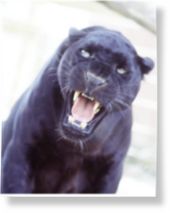 The mystery panther that has stalked Norfolk for years is on the prowl again, with two fresh sightings reported - including one in the North Norfolk village that was named the county's big cat hotspot two years ago.
Louisa Allen, from Hevingham near Aylsham, said she was shocked to see the animal just 25ft from her house last Wednesday.
"It was completely black with a very long distinctive downward-curving tail. It was about the size of a Labrador but it was much longer in the body and walked like a cat," explained the dressmaker, who was preparing for a fitting when it happened. "I saw it so clearly. I've no doubt it was a panther."
Another woman, who did not want to be named, reported a similar cat prowling her property in Sandy Lane, Aylmerton two weeks ago.
She said: "It was in very good condition - it had a beautiful black coat. I should say it was a puma, from the head. I'm a farmer's daughter, and I know what I saw. I'm not an imaginative person."
The sightings came days before a Cambridgeshire farmer claimed an attack on one of his pregnant ewes could only have been caused by a big cat, and two tree surgeons in Gloucestershire saw a big cat "the size of a Labrador with a shimmering black coat" and photographed its paw print.
Frank Tunbridge, who has been tracking cats for the past 25 years, said: "Every year, at this time of year when they are breeding, the sightings go up. As they are breeding they take more risks and go out looking for a mate."
In 2006 Hevingham was named Norfolk's big cat hotspot after more than six sightings of a large black cat in and around the village were reported to the national organisation Big Cats in Britain. A BCIB spokesman said they received about 45 big cat reports in Norfolk last year. He added: "People don't always think to call the police. There is definitely something out there - we don't know what."
Figures obtained under the Freedom of Information Act show that five sightings were reported to police in Norfolk last year, eight in 2007 and seven in 2006. Sightings peaked in 2001 with 33 reports.
An RSPCA spokesman said: "Although we don't get many calls, we hear about a lot of these sightings. It is theoretically possible that it could be a big cat, but we have never seen any proof."
Bob Engledow, who used to run Operation Big Cat monitoring sightings of wild pumas, panthers and lynxes, said that people released them after the 1976 Dangerous Wild Animals Act made it very difficult to keep them as pets.
Do you have evidence of a big cat in Norfolk? Email mary.hamilton@archant.co.uk.