Statement (translation):
The recording was obtained on July 8, 2008, in the small Peruvian locality of Santa Rosa de Quives. Locals have dubbed the being "The Man".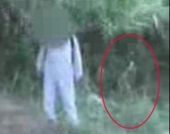 The preliminary investigation concurs that it is not a virtual animation, says Dr. Anthony Choy, adding that he cannot guarantee the authenticity of the video until other elements are examined. The witnesses wishes anonymity.