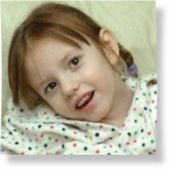 Six months ago Belle Isle youngster Melody Brook was full of life.
Now an illness baffles medics has left the five-year-old struggling to speak, walk, feed herself or even support her head.
Melody has been in hospital for months while doctors try to work out what's wrong.
Her mum Alicia Ellis said: "It's awful and unbelievable. I want her back like she was."
Melody started showing symptoms a few days after having her
joint measles, mumps and rubella (MMR) vaccination in July
.
She became unsteady on her feet, then started falling over and then was admitted to hospital.
She has been in Leeds General Infirmary since, though returns home to Belle Isle at weekends. Doctors admit they do not know what has caused her disabilities.

Comment: These doctors are either out right lying, or in very deep denial.


Alicia, 25, said: "They have done tests and everything has come back negative.
"Every time she comes out she seems to get worse. I can't get her to stand up at all. She sits in her chair, she's in nappies and she cannot feed herself. It's like having a baby again."
A cherished family video shows Melody at Christmas 2006 dancing with brothers Ryan, now seven, and Jay-Jay, three. But a film from this Christmas shows her unable to even open her own presents.
Alicia has been told Melody has ataxia (co-ordination problems) but doctors do not know why. She suffered minor brain damage after picking up an infection as a baby but this did not affect her development.
Medics rule that out as a cause, though Alicia thinks Melody should not have had the MMR jab because of her medical history.

Comment: The fact is these vaccines are unsafe, period. Especially for infants and toddlers.


She is convinced the injection and Melody's illness are linked, though doctors say there's no evidence of this.

Comment: There is a plethora of articles and research showing that vaccines are linked to a myriad of horrible side effects. And doctors know it, or they are so gullible that they believe everything the pharmaceutical companies tell them.


"Show me the evidence that it's not that and I might be all right, but they can't," Alicia said.

Comment: Damn straight they can't!


The combined MMR vaccination was embroiled in controversy several years ago when a now-discredited study linked it to autism and bowel disorders. Its three authors are facing allegations of misconduct before the General Medical Council.

Comment: That's how these pharmaceutical companies and medical associations they fund operate. Discredit and bury any evidence that can show how dangerous the pharmaceutical chemicals are.


The NHS and the World Health Organisation both recommend the MMR jab and say it is safe.

Comment: Of course they do. These people don't care about people and their well-being. All they care about is money, power and more money and more power. And they do not care what they do to whom to get it.


A spokesman for Leeds Teaching Hospitals NHS Trust said: "This is a complex case and our specialists are working hard to understand and diagnose Melody's condition.

Comment: They sure are! They are working hard to find something, anything that will get the pharmaceutical companies and medical profession off the hook for giving this vaccine to this poor little girl whose life has been ruined.


"Doctors and nurses are doing everything they can to keep Ms Ellis informed whilst tests are going on, as we know this is a very distressing time."
* Ms Ellis would like to hear from any other parents who have experienced similar problems with their children. Get in touch via katie.baldwin@ypn.co.uk