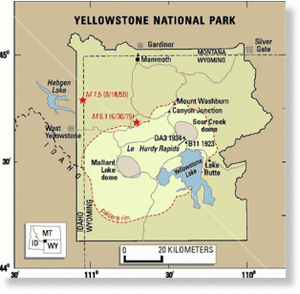 Yellowstone National Park is a restless place, even in the calmest of times. Tiny earthquakes - and sometimes not so tiny - are part of life in one of the world's most seismically active and mysterious regions.
But scientists said Monday that one of the biggest earthquake swarms ever recorded in the park took place in the last week of 2008 into early 2009, with 813 quakes in 11 days, most of them deep under Yellowstone Lake and felt by almost no one. Only one other swarm, in 1985, was more intense. Records go back to 1973.
A sign of looming geological upheaval?
Probably not, said Jacob B. Lowenstern, the scientist-in-charge at the Yellowstone Volcano Observatory, a partnership between the park, the
United States Geological Survey
and the
University of Utah
.
Dr. Lowenstern said that the observatory received hundreds of calls and e-mail messages during and after the swarm, many filled with heated, end-of-days rhetoric, and some even citing the ancient Mayans as an authority. (The Great Cycle of the Mayan calendar ends in 2012, which has been taken by believers in celestial-based prophecy as a bleak indicator.)
"No explosions," Dr. Lowenstern said.
If Yellowstone - in the northwest corner of Wyoming - were really moving into a new, more volatile phase, he said, some dramatic blowoff of steam or flow of lava would probably have accompanied the swarm, indicating a buildup of pressure.
But the wave of quakes subsided suddenly on Jan. 5, ending as enigmatically as it began, leading the observatory to keep its volcano monitor level for the park at normal or green - the lowest level of concern.
Much of Yellowstone sits atop a giant volcano that last erupted about 70,000 years ago - a moment that capped perhaps 100,000 years of intense geologic violence, followed by the relative calm of the modern age.
Dr. Lowenstern did grant that having the swarm take place under Yellowstone's largest lake - more than 300 feet deep - added to the sense of mystery.
"If there was a swarm under land, you could easily look for changes in hydrothermal activity - if magma was coming out, you would see it," he said. "We don't know if there are changes beneath the lake."
And so, normal is back - normal for Yellowstone, anyway, where 1,000 to 3,000 earthquakes are cataloged in an average year.
"If we had another swarm in six months, it certainly wouldn't surprise me," Dr. Lowenstern said.