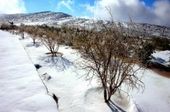 A blanket of snow has covered a mountain in a part of the United Arab Emirates, a rare phenomenon for the desert Gulf country, according to local media report.
Al-Jees mountain, 5,700 feet (1,737 metres) above sea level and 25 kilometres (15 miles) northeast of Ras al-Khaimah city, was covered in 20 centimetres (eight inches) of snow, the state news agency
WAM
said.
"Although limited snowfall was recorded on the mountain some years back, for the first time the peak of the mountain was fully covered in snow," it said.
Local authorities said temperatures plunged to minus 3 degrees Celsius (26.6 Fahrenheit) on Friday and again to below zero on Saturday,
The National
newspaper reported.
Major Said al-Yamahi of Ras al-Khaimah police told the newspaper that an area of five square kilometres (almost two square miles) was covered in snow.
The emirates of Abu Dhabi and Dubai also had heavy rains on Friday and Saturday, in a spell of rare chilly weather in a desert state where summer temperatures can reach 50 Celcius (122 Fahrenheit).