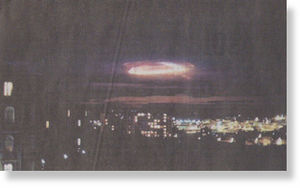 The object was seen in Villemur, Montauban and the Tarn department.
The remnant of a spacecraft? A meteorite fragment? Little green men? Questions remain after a mysterious apparition literally pierced the sky in the area North of Toulouse, last Saturday in the late afternoon. Several persons witnessed what most of them would later describe as a "big red light falling from the sky".
The object was not only seen in Montauban, but also around the Tarn border and in Villemur-sur-Tarn, where Martine, a resident who was coming home from shopping, reported:
"Suddenly, I saw a kind of red square shining like fire. The object formed an arc in the sky. It was really, really big. I'm a a rational person and I don't believe in aliens. But I'd like to know what it was..."
So would many witnesses. In Toulouse's Jolimont observatory, Laurent Koechlin saw the strange UFO too. He confirms, while remaining cautious. "We received several calls on Monday. It was indeed a meteor, which means the object was real and was falling from the sky. It's the second one I've seen in my life. My opinion would be that it's a natural element, but we'll have to cross-check the information in order to know more. I think it was big enough not to be entirely pulverized. In my opinion, he fell somewhere and should be looked for in the South, maybe in the Pyrénées."
To be continued...