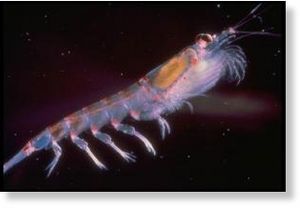 The largest and to date the most comprehensive experiment to soak up greenhouse-gas emissions by artificially fertilising the oceans set sail from South Africa earlier this week.
The ambitious geoengineering expedition has caused a stir among some campaigning groups, but has the scientific backing of the UK, German, and Indian governments, as well as the International Maritime Organisation.
Within weeks, the ship's crew hope to dump 20 tonnes of ferrous sulphate into the Southern Ocean. Plankton need iron to grow, and the aim of the expedition is to trigger a plankton bloom and boost the amount of carbon that is sucked out of the air and locked up at the bottom of the ocean.
The team, led by Victor Smetacek of the Alfred Wegner Institute, Bremerhaven, Germany, will also monitor the population of krill to see if their populations also increase. These small crustaceans feed on plankton and are an important food source for many marine species. So, if the population grows, this could give fisheries a boost.
'Anti-offset crusaders'
Ocean fertilisation experiments have been carried out on a few occasions in the past, but became controversial in 2007 when a company called Planktos announced it would dump iron fillings off the coast of the Galapagos islands.
Some environmental organisations, including the ETC group, expressed concerns that this was tantamount to pollution and, by affecting plankton at the bottom of the food chain could have unforeseen consequences.
Planktos eventually cancelled the expedition and the company folded due to lack of funds. It blamed a "highly effective disinformation campaign waged by anti-offset crusaders".
Following on the Planktos affair, both the International Maritime Organisation (IMO) and the Convention on Biological Diversity recommended that governments restrict ocean fertilisation activities.
So the fact that Smetacek's expedition - backed by the German government, which hosted the CBD's meeting last year - has been allowed to proceed has raised eyebrows.
"If this iron dump goes ahead it will be in clear defiance of the UN Convention on Biological Diversity,"
warns Jim Thomas of ETC Group. The CBD resolution makes an exception only for small coastal experiments, but Smetacek says his expedition has been approved by the German environment ministry.
'Slippery slope'
Regardless of the CBD's recommendations, which are not legally binding, Smetacek's experiment is not in contravention of the IMO's London Convention on ocean pollution.
Its
statement
on ocean fertilisation says "ocean fertilization activities other than legitimate scientific research should not be allowed" and adds that scientific experiments should be assessed on a case-by-case basis. Smetacek insists his experiments have been approved by all necessary parties.
"Twenty tonnes of iron particles in the vast ocean is very much drop in the bucket and is unlikely to have a lasting effect," says Ken Caldeira of Stanford University. "The rational concern is that experiments will lead down some slippery slope - that small experiments could be scaled up without any regulation."
Planktos was a commercial organisation. It intended to sell carbon credits to companies that would pay the company to dump iron in the oceans, which would in theory suck CO2 out of the atmosphere and counter their own polluting activities.
For now, the CBD and the IMO agree there is not enough evidence that this would work and so are firmly against commercial activities. Smetacek's experiments could reveal whether or not ocean fertilisation will work.
Even if it does, however, Caldeira does not believe companies should be allowed to sell carbon credits in return for fertilising the oceans. He says this would simply encourage companies to continue emitting greenhouse gases. Ocean fertilisation and other geoengineering schemes, says Caldeira, should be seen as potential short-term solutions that could cool temperatures while humans switch to non-fossil sources of energy.