How's this for cold comfort? Sask-atoon's deep freeze is likely the longest streak of low temperatures below -25 C that has numbed this city since record-keeping began in 1892.
The 24-day streak started cruelly Dec. 13 after relatively mild temperatures and continued at least through Monday, said David Phillips, Environment Canada's senior climatologist.
"That's the thing that's brutal," Phillips said from Toronto, where he was enjoying a temperature of -4. "We can all handle a few (cold) days. It's the long haul that wears you down.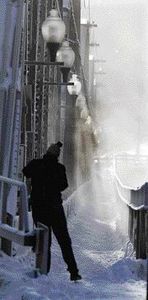 "It's really a shocker, the duration of the cold."
Phillips said he couldn't find a longer cold snap in Saskatoon's recorded weather history during a look through the records Monday. Even during the infamous January of 1950, when temperatures hit -46 and -45 (not counting any wind chill), the cold streak of -25 or lower lasted "only" 21 days.
The first two mild weeks of December kept the month from being Saskatoon's coldest ever. It still averaged -20.6, the sixth-coldest December on record and the most frigid since 1983.
Prince Albert was slightly colder in December, with an average temperature of -21.4, while Regina registered -18. Neither of those burgs have suffered a -25 streak approaching Saskatoon's, Phillips said.
The normal average temperature for Saskatoon in December is -14.3.
The historic streak could end today. Environment Canada was forecasting a low of -23 for today, before another drop Wednesday.
There's no good news on the horizon.
January is expected to be colder than its normal mean temperature of -17, said Environment Canada meteorologist Bob Cormier. The three-month period of January through March is also expected to be colder than normal, he said.
The frigid temperatures and the bad timing of the New Year's Eve snowstorm has left city snow crews well behind schedule.
As of Monday, snowplows still hadn't touched almost one-third of the priority streets, which range from arteries such as Circle Drive and Eighth Street to bus routes and minor collector streets. The major arteries have been cleared once, but may need a second pass, said Gaston Gourdeau, manager of the city's public works branch.
Ninety per cent of bus routes are cleared, but many minor collector streets still haven't seen a snowplow.
"We're looking forward to warmer temperatures," Gourdeau said. "It's been tough for everybody."
The New Year's Eve storm was a double-whammy for snowplow operators.
Many city staff were on holidays. Hydraulic parts of heavy equipment respond more slowly, like everything else, in the cold, forcing crews to get less done than they normally would.
Gourdeau predicts snow crews will be in some neighbourhoods clearing out trouble spots by the end of the week.
He said he decided against implementing a street parking ban to speed up snow clearing for two reasons.
The city hasn't had the staff to guarantee cleanup within 72 hours until this week.
In frigid weather, it's also difficult to ask residents to move cars off the street to spots where plug-ins may be unavailable, he said.