A winter storm brought blankets of snow across Europe on Monday, forcing the closure of an icy Eiffel Tower in Paris and causing flight cancellations.
Up to 10 centimetres of snow was recorded in parts of France, the national weather service said. Most areas, including Paris, got about half that amount.
French authorities issued traffic alerts in around 30 regions because of icy roads.
The Eiffel Tower, one of Paris' main tourist attractions, was closed because of slippery conditions.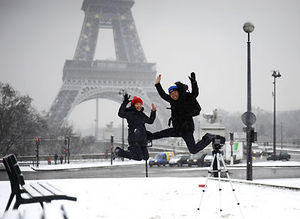 "We can't put down salt because it's metallic," Eiffel Tower press officer Isabelle Esnous said.
"We can't use sand either ... because it risks getting into the elevator (cogs)."
The cold, she said, was no problem, but snow could be dangerous.
Hundreds of passenger were stranded Monday at the main Paris airport of Roissy-Charles-de-Gaulle by snow after scores of flights were cancelled.
Some "1658 people will be accommodated by Air France Monday evening in hotels at the airport hub at Roissy after the cancellation of 120 Air France flights of the 400 scheduled since the beginning of Monday afternoon, mainly to European destinations but also some long haul services," the airline said.
Passengers waiting for flights "will have available food and hot drinks" at the end of a day described as "difficult" by Air France.
The Paris airports authority said passengers should ring their airlines to see if their flights were operating and said some might not leave Monday evening.
Traffic at Roissy and the second Paris airport at Orly was due to return to normal Monday evening.
Northern, central and western France were hit by snow and freezing rain during Monday, causing accidents, one fatal. Weather services warned that the thermometer would fall further during the week as icy air arrived from Siberia and Scandinavia.
Temperatures could fall to between minus five and minus 10 centigrade (23 and 14 Fahrenheit) in the north and northeast, forecasters said. The cold snap could last until the middle of the month in much of the country.
National elecricity consumption hit a record peak early Monday evening.
In the Paris area transport authorities had to suspend some bus services as snow and freezing rain made roads impassable. At one point, heavy goods traffic moving towards Paris was limited.
In Germany, heavy snowfall snarled road traffic and flight delays and cancellations at the country's international airports.
Duesseldorf International Airport said no flights were allowed in or out between 6am and 9am local time on Monday (1600 AEDT-1900 AEDT Monday) because clearing crews were unable to keep up with the snow.
More than 30 flights were cancelled because of the bad weather, airport spokesman Christian Witt said. Up to 10 centimetres of snow was reported in Duesseldorf and about 15 centimetres in Potsdam, just outside Berlin.
Flights from Frankfurt International Airport were delayed as much as an hour but none had to be cancelled.
Traffic stopped for hours on many of Germany's autobahns as snowploughs struggled to clear the roads amid heavy post-holiday traffic.
Germany's National Weather Service is forecasting subzero temperatures for the coming days.
Snow also fell across Britain. Children built snowmen in parts of England, including Cambridge.