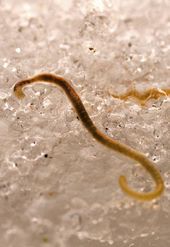 Who knew snow could be so creepy? And crawly.
Bill Thornton of Port Orchard certainly didn't, until he noticed something in his parents' backyard early Christmas morning.
"The more I looked, the more I found, and they were literally crawling up out of the snow," he said.
Worms - "snow worms," as he's started calling them - squiggled by the thousands atop the backyard snow.
That discovery launched Thornton on an odyssey as he tried to figure out what the worms are and where the came from.
Through conversations with friends and Internet postings, he's found others in Port Orchard, Roy, Olympia, Tacoma and Vancouver, British Columbia, who have reported the same thing.
He has lived in Kitsap since 1979 and has never seen anything like it.
He posted an article about the worms on KOMOnews.com's "You News" section and heard back from a couple of people.
"I had them all over the yard here on the Key Peninsula, too. Hundreds, if not thousands," a commenter named Mike wrote.
The worms have segmented bodies but are only about an inch long.
"My first thought was maybe it was something that was coming from the dog," Thornton said of his trusty pooch, Charlie. "Coming from the dog" is a polite way of describing what Charlie leaves behind in the yard.
But he's since found evidence of the worms in places where dogs don't roam, so he doesn't think animals are the cause.
After an extensive Google search, Thornton discovered ice worms. They live in glaciers in some areas along the West Coast, but it appears unlikely that they are what Thornton discovered.
The
Kitsap Sun
took a couple of the annelids - science-speak for segmented worms - to the Washington State University extension office in Bremerton to find out what they were.
"They sure look like earthworms," horticulture educator Peg Tillery said as she peered through a microscope.
People often bring bugs to the extension office for identification; worms are more unusual.
Tillery's working theory is that the annelids in question are juvenile earthworms. She figures they came to the surface to breathe, because the snow was preventing them from getting oxygen.
Tillery plans to send the samples to a worm expert at the University of Washington (WSU doesn't have one on hand) to see if they can come up with a positive ID. It should take a couple of weeks.
Earthworms, and the samples Thornton supplied, don't look like most parasites that afflict animals like dogs, but "we're also looking to make sure it isn't some kind of parasite for his dog," she said.
"It's really sparked my curiosity," Thornton said. "I'd like to find out what they are."