* Ultimate eBay sale for discerning sailors
* Royal Australian Navy sub up for grabs
* Yours for $4.9 million-plus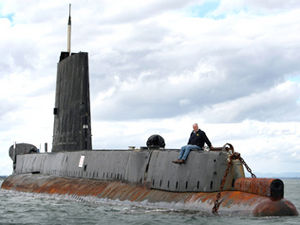 IT is the ultimate Christmas gift for the discerning sailor. Just log on to eBay, lodge any bid more than $4.9 million, and the 2000-tonne former Royal Australian Navy submarine, the HMAS Otama, could be yours, The Australian reports.
The story behind the bizarre firesale of this Cold War warrior, a prized piece of the nation's military heritage, is far from festive.
The forced sale of the Otama - the first RAN submarine offered on eBay has broken the heart of the man who dreamed the vessel would one day restore the flagging fortunes of his home town of Hastings on Victoria's Mornington Peninsula.
Max Bryant, president of the Western Port Oberon Association, said: "I've put 11 years of work into this, and all we have had is disappointment."
Bought from the federal government in 2001 for $50,000, the decommissioned Otama was to take pride of place on the Hastings foreshore, providing an all-year tourist attraction for the small industrial town.
It was to be a noble end for the last of the Oberon Class boats, which spent much of its life from 1978 to 2000 conducting dangerous top-secret surveillance missions against Soviet targets off the coast of Vietnam.
Instead, Otama is fast rusting away in the waters of Western Port Bay, the victim of planning delays and false promises by Victorian government officials over seven years.
The local federal member, Flinders MP Greg Hunt, said: "These local guys just wanted to give something back to their community. Instead they have been caught up in a bureaucratic nightmare."
The group was initially told it would easily win planning approval from the state government for its project, but two applications have been rejected over seven years. A third application is pending, but