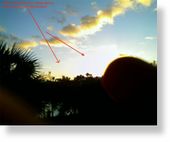 Numerous reports of a large fireball in the sky were called into 911 dispatchers and our NewsChannel 5 newsroom Thursday evening.
Viewers reported a large green and blue fireball falling from the southern sky around 4:55pm.
Initial reports were a possible plane on fire in the sky but law enforcement officials confirmed no reports of aircrafts down.
Local astronomers believe it was a fireball, which is bigger and brighter than an average meteor.
There were no reports it made impact into the ground, which would be a meteorite.
The Geminids Meteor showers usually peak around this time of year and can be viewed to the east late at night.
If you have videos or photos you would like to share with NewsChannel 5, you can call our newsroom at (561) 653-5700 and email us at NewsTips@wptv.com