Waves up to several meters high last Sunday evening destroyed the booths and whirligigs of Luna Park in Cannes [South of France], leaving no deaths, as reported on Monday 15th.
"It is as though a war had been fought. Trucks were knocked over, the games damaged. Nothing is left. The whirligigs are not even broken. They exploded. It looks as if the place had been bombed", declared to the AFP Jean-Philippe Boubier, one of the fairground men.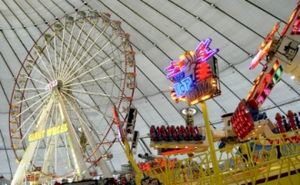 Public officials in the town of Cannes confirmed the extent of the destruction:
"It is a catastrophe, something never experienced before"
, said Iris Perben, the town hall's spokesman.
Rapid evacuation
When the sea began its onslaught, the fairground people conducted an evacuation of all the visitors. By the middle of Sunday afternoon, the waves started to grow higher than the protective barriers, and their size and power kept increasing progressively.
At 4.30 pm, the first waves arrived. 'La Pomme' ('The Apple' - an eight-shaped game) started moving. Later on, the sea level increased. The strongest waves arrived at about 9.30 pm.
"Huge waves, up to 5 or 6 meters (16-20 feet) high, started to enter from above the dike"
, said Jean-Philippe Boubier
The fairground employees will meet with the mayor, Bernard Brochand, and his staff.