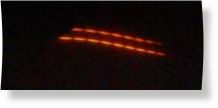 Does this picture captured by a
Citizen
reader prove UFOs really do exist?
It was taken by a 23-year-old man living in the Park Road area of Wisbech just over a week ago.
The man, who does not want to be named, caught this unusual light formation in the skies over his home as he watched them silently move over Wisbech with a group of neighbours.
The picture was taken between 9pm and 9.30pm last Monday (November 17).
He has been left shaken by the 'weird' incident.
The man's father said: "He told me all about it, and showed me the pictures he had taken on his phone. I have always sort of believed in UFOs anyway, but this picture certainly looks convincing.
"My son said there were five or six other people watching with him and none of them could quite believe what they were seeing.
"None of them thought it was a plane. There was no noise when it moved. My son is still unsure about whether or not it really is a UFO but it is certainly intriguing."
Did you see the strange phenomenon? Did you take any pictures of the strange lights? Let us know - contact the newsdesk on 01945-586135.