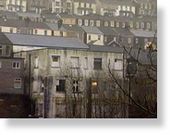 Another young person has been found dead in a South Wales county blighted by suicide victims, police have said.
The 25-year-old's body was discovered at her house in Bridgend on Monday morning.
A spokesman for South Wales Police said the death was not being treated as suspicious.
The woman is the 24th young person in or from the county believed to have killed themselves in less than two years.
The police spokesman said while there were similarities between recent sudden deaths in the county, there was no criminal link.
"In the event of a sudden death, we will investigate the circumstances surrounding the incident, our primary aim being to determine whether or not the death is suspicious," said the spokesman.
"There are clearly similarities between recent sudden deaths in Bridgend, but South Wales Police can confirm that our investigations have by no means uncovered any criminal evidence that links them."
Bridgend councillor Mervyn Lewis said: "I know that the council are working with police to try and find a way to try and help any youngsters that feel pressured and depressed about their lives."
"It seems that in this area it affects people under 30 and nobody knows why."
Mr Lewis added: "There doesn't seem to be any rhyme or reason why this is happening."