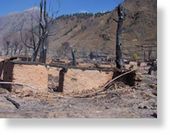 Seventy nine residential houses, fifty eight cowsheds, eight shops and a local Masjid was reduced to ashes in mysterious fire, which broke out in Chui Draman village of Marwah tehsil, about 115 kilometers from here, late last night.
Officials of police and civil administration on the instruction of Divisional commissioner Jammu has rushed essential supplies including cash to the village to meet emergency situation, sources told News Agency of Kashmir.
Sources quoting officials told NAK that
fire broke out in the Chui Draman village late last night under mysterious circumstances and it soon engulfed the entire village,
sources said adding the initial reports available with the district administration reveal that 58 residential houses, 58 cowsheds, 8 shops and a local Masjid has suffered total damage in the devastating fire, while 21 other residential structures were partially damaged.
However no report of loss of life or injury was reported from the area, Senior officers of police and district administration including former MLA Kishtwar Sajad Ahmed Kichloo, Additional district development commissioner Reyaz Ahmad Zargar, SP Kishtwar Haseeb Mughal and SDPO Kishtwar Lyakat Chowdhary were deputed by the Divisional commissioner Jammu to the area to take stock of the situation.
Army personnel has also reportedly reached the village early this morning and provided immediate help to the villagers. "It was the army which informed its unit about the devastating fire in Kishtwar", a senior officer in the district administration said.
At least 146 structures, including 79 residential houses, 8 shops and a local Masjid were said to be damaged in the fire. However, officials in Divisional Commissioner's office in Jammu said that the information about the damage un-official and there was no official details available.
"The area is far away with no road connectivity as such the exact details of the damage could be ascertained only when the official team, deputed to the area, returns on Wednesday", he said.
Assistant Deputy Commissioner Kishtwar Riyaz Ahmed Zargar who was on way to Chui Draman village told News Agency of Kashmir that they have taken essential commodities besides cash to the village to provide on the spot relief which included essentials, blankets and cash.
It is pertinent to mention here that last year in the same month Margi village comprising 160 residential houses, 60 cow sheds, 50 grass sheds and 2 Masjids were reduced to ashes in devastating fire.
Former Member Legislative Assembly and senior National conference leader Kishtwar Sajad Ahmed Kichloo has urged the governor to providing financial assistance to the affected villagers.
In a statement issued Sajad Ahmed Kichloo, has expressed shock and grief over the loss suffered due to fire that broke down in village Chai-draman of Warwan area of District Kishtwar the other day, in which about 40 houses have been burnt.
He expressed sympathies with the families of the sufferers and demanded from the government to pay ex-gratia relief of Rs. 2.00 lakh each to the effected families and make adequate necessary arrangement for their rehabilitation.
Sajjad Ahmed Kichloo, who reached the effected village, distributed 200 blankets, 200 jackets, sweaters, and clothing's for women and children and impressed upon the government to provide six month free ration to the victims besides timber and iron sheets on war footing for construction of their houses before the first snowfall.
Meanwhile, Senior Congress leader and former Chief Minister, Ghulam Nabi Azad has expressed deep sorrow over the fire incident at Wadwan, Kistwar in which 58 residential houses were gutted.
Azad has appealed the government to provide immediate relief to the fire victims. With the commencement of the winter, Azad said that the affected families be provided timber, tin sheets for reconstruction of the gutted houses. He also demanded for free ration for the fire victims.