Jakarta - People living in the shadow of Mount Soputan volcano on Indonesia's Sulawesi island were warned to stay away Tuesday after it started erupting with smoke and flame, officials said.
"There's no order to evacuate but people are asked to stay outside a radius of four kilometres (2.5 miles) from the volcano's summit because it could spew lava and heat clouds down its slopes," volcanologist Sandi said.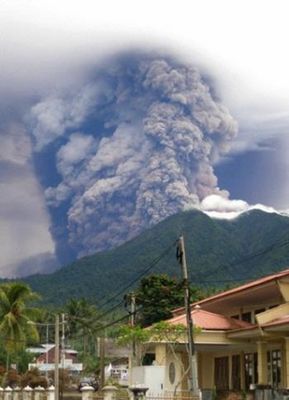 The nearest village was eight kilometres away on the western side of the volcano, which towers 1,783 metres (5,955 feet) over North Sulawesi province.
The mountain started erupting Monday morning and continued to shoot massive clouds of smoke and flame throughout the night, prompting authorities to raise the eruption warning level to the third highest on a four-level system.
A new lava dome has been forming at the peak of Mount Soputan since a big eruption in 1991. Scientists have said that its collapse will send lava as well as deadly heatclouds speeding down its slopes.
Indonesia sits on the Pacific "Ring of Fire" where continental plates collide, causing frequent seismic and volcanic activity. The archipelago nation is home to 129 active volcanoes, including 21 on Java.