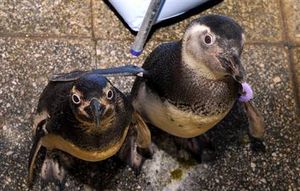 Not everyone in Rio de Janeiro has taken to the penguins quite the way Cecilia Breves has, but even for her, there is a learning curve.
Her new penguin friends do not, it turns out, care for the red plastic igloo she purchased, except when it rains. Nor are all the young ones adept at swallowing whole sardines -- she has ruined more than one blender grinding their daily fish smoothies. And when she took to cradling them on her lap to watch TV in the evenings -- being, as they are, wild flightless birds that aren't housebroken -- it didn't take long for her to realize she must first swaddle them in a towel, for cleanliness.
"I was very happy when I had one or two, because they are so cute. They'd follow me around everywhere," said Breves, 57, a retired photographer. "It's much harder when there are eight of them."
The sheer quantity of young penguins that have washed up on Brazil's sun-drenched beaches this year has confounded nearly everyone who comes in contact with them. Each summer and early fall, some gray-and-white Magellanic penguins could be expected to drift here, washed by ocean currents more than 2,000 miles north from their homes in southern Argentina near the bottom of the world.
'I have never seen anything like this'
This year is different. Like some maritime dust-bowl migration, more than 1,000 of these penguins have floated ashore in Brazil, nearly as far north as the equator. By the time their webbed feet touch sand, many are gaunt and exhausted, often having lost three-quarters of their body weight. Even more have died.
"This year is completely anomalous," said Lauro Barcellos, 51, an oceanographer who founded a rehabilitation center for penguins in southern Brazil. ". . . I've worked in this field for 35 years, and I have never seen anything like this."
Zoos here are building new storage spaces for the penguins. Lifeguards are learning how to give them first aid. Scientists are using satellites to track their movements. Animal lovers, such as Breves, are taking in survivors to help out the overwhelmed zoos and marine centers.
Next week, Brazilians plan to load 50 penguins onto a navy ship to begin their journey home. While some scientists have suggested that climate change may be playing a role in the penguin invasion, as of yet the basic question remains unanswered: What exactly is going on?
"Nobody is actually really sure about this," said Ricardo Burgo Braga, a graduate student in polar biogeography in southern Brazil who has begun studying the phenomenon.
It is normal for Magellanic penguins, which spend months in the ocean, to leave their colonies in southern Argentina and ride the plankton-rich frigid waters of the Falkland Current, which flows north up the coast of South America from Antarctica, in search of sardines. The eddies from a second current, the Benguela of southwest Africa, travel across the Atlantic toward Brazil. While the penguins would normally turn back when they hit the warmer Benguela waters, the current has been "exceptionally cold" this year, Braga said. Adding to this, the Falkland Current, fortified by strong winds, has been particularly powerful.
"This is a regular situation, but it's the intensification of this that we're trying to understand," Braga said.
A result of climate change?
While climate change has been implicated in melting polar ice caps and the transformation of parts of the Amazon rain forest to drier savannah lands, some scientists say there is not enough data on how weather changes are driving these currents.
"This is extreme, but we don't have statistics on the number of penguins and the ocean temperatures," said José Marengo, a climatologist at Brazil's National Institute for Space Research and a member of the U.N. Intergovernmental Panel on Climate Change. "Some of the most important uncertainties we have are on the oceanic currents."
There have been other unusual changes in the oceans off Brazil. In 2004, scientists recorded Catarina, the first-ever hurricane generated in the South Atlantic. But only in the last 10 to 15 years have satellites been gathering information on the eddies moving across the Atlantic, and there is not a firm scientific grasp of where and why currents such as the Falkland end, said Antonio Busalacchi, an oceanography and climate expert at the University of Maryland.
"Clearly we've been seeing changes in the ocean circulation in the Southern Hemisphere," he said. "The question for the future, and we don't have an answer yet, is how is that going to shift against the backdrop of climate change?"
In the meantime, both penguins and humans in Brazil have been forced to adapt. From his lifeguard post on Copacabana beach, Capt. Rodrigo Maia has watched dumbfounded as the little swimming footballs waddle to the sand amid bronzed surfers and bikini-clad women.
"This year was really not normal," he said. "It's incredible. We don't believe it."
His post has turned into a triage station for the exhausted birds. The lifeguards dry them with blankets and towels, warm them under lamps, check for fish bones in their throats and arrange for their transport to the zoo. The beachgoers sometimes choose different methods of treatment.
"They'll put them in buckets of ice. They think that because they live in a cold place they like it," Maia said. "When we see that, we have to run and explain that this is the wrong way to deal with these animals. It's crazy."
By Sept. 21, the Niteroi Zoo had received 556 penguins, compared with just seven penguins in all of 2007. Hundreds more dead and feeble penguins, some covered in oil, hit land in the resort town of Florianopolis, and as far north as Salvador and Recife.
The veterinarians working in a white-tiled back room at the zoo on a recent day looked like investigators documenting an aquatic atrocity. Dozens of penguins, some with broken flippers or open wounds, lay catatonic in plastic crates on the floor. A heat lamp warmed one penguin on a stainless-steel table while the veterinarians tube-fed the bird a ground-fish mixture. The penguins receive glucose injections, vitamins, and antibiotic treatments for worms and fungus. "Sometimes they're not strong enough to breathe," said Thiago Muniz, one of the veterinarians. "A lot have died because of fatigue."
Those who recover enough are moved outside to swim and eat whole corvina fish in the pool next to the lion's cage. Zoo officials have arranged for 50 of the penguins to travel by navy ship Tuesday to the city of Rio Grande, where they will stay at a rehabilitation center until they can swim back to Patagonia.
For some, a sad farewell looms
This return trip does not always sit well with some of the Brazilians who have grown to love their strange new visitors. At Breves's penthouse apartment in Rio, the penguins have free rein to waddle around the palm-treed veranda or swim in the rooftop hot tub. Each one -- Fernandinha, Claudinha, Queridinho, Pity, Predileto, Tutuca, Colhidora and Smarty -- has a personality that Breves, and her friend Lucia Estrella, who runs a nonprofit organization for birds, have come to distinguish.
"I don't think people need to have penguins as pets, but I don't agree that they should take a penguin that's been fed and cared for and send them back to the ocean," Breves said. "If you don't do a proper job with them, you're sending them to death."
After Estrella finished prying open one weak penguin's beak and feeding him his frozen sardines, she watched happily as the bird wiggled its flippers under the warm tropical sun. A majestic view of city and ocean spread below them on the sparkling day. Mused Estrella, "Isn't this better than to be swimming around, lost in the waves?"