A Finnish student has killed several people after opening fire at a vocational school in north-western Finland.
Finnish police told the national broadcaster that nine people had been killed, and confirmed the gunman, understood to be a male student around 20 years old, had been disarmed.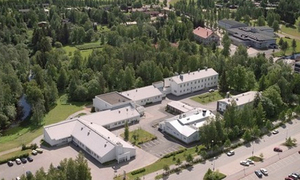 ©Unknown
A picture of Kauhajoki Palvelualojen Oppilaitos vocational school from its website
Local authorities said later that he had taken his own life. "He is no longer free. He has killed himself,'' Antti Rantakokko, the Kauhajoki mayor, told Reuters. There were conflicting reports that the gunman was wounded but not dead.
The Finnish news agency STT has quoted police as saying that "many may be dead" at Kauhajoki Palvelualojen Oppilaitos vocational school for students aged 16 and over.
Later Superintendent Jussi Muotio of the Kauhajoki police said the incident was over and police did not know if anyone had been killed but he feared several were wounded.
It is understood that the shootings began just before 11 am and there were around 200 people in the building at the time.
According to local reports the gunman was carrying an automatic weapon and wearing a ski mask as he entered the school.
Police continued to evacuate the school buildings and there are five police patrol groups at the school, 180 miles north-west of Helsinki.
Timo Huovinen, a local journalist, told Sky News that students had been about to begin an exam when the gunman opened fire.
Reports have also begun surfacing about a video posted on YouTube which may be connected to the shooting.
The clip shows images of a man in a leather jacket firing a handgun in rapid succession at what appears to be a shooting range. The location is given as Kauhajoki.
It is said to have been posted on the site five days ago. The posting supposedly included a message which said: "Whole life is war and whole life is pain. And you will fight alone in your personal war.''
Police have not been able to confirm whether the video postings are linked to the shootings.
It is almost a year since a school shooting in the Finnish town of Tuusala, in which nine people died, including the gunman.
Last November, Pekka-Eric Auvinen killed six students, the school nurse and the principal before shooting himself with a handgun at the Jokela high school near Helsinki.