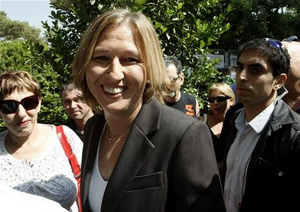 ©Reuters
Foreign Minister Tzipi Livni was set to be Israel's next prime minister after a comfortable victory on Wednesday in a party leadership election to choose a replacement for Ehud Olmert.
"The good guys won," the former corporate lawyer and one-time Mossad intelligence agent told supporters within the ruling centrist Kadima party after exit polls gave her a clear margin over retired general Shaul Mofaz, the transport minister.
Palestinian peace negotiators -- and possibly the sponsors of the peace process in Washington -- were among those applauding as official results began to confirm a win for Livni, who has led talks with the Palestinians this year.
But
the daughter of storied Zionist guerrilla fighters of the 1940s
will require combative spirit and political flair to consolidate her goal of becoming Israel's first woman leader since the redoubtable Golda Meir in the 1970s.

Comment: Which should of course read the daughter of "Zionist terrorists". Israels foundations were built on terror and slaughter, a vicious campaign that continues today. While the media refuses to acknowledge the reality of Israels history, renaming terrorists as 'guerrilla fighters' contributes to lies as opposed to truth.


Olmert, who telephoned Livni with congratulations, has said he will resign as soon as Kadima has a new leader. But the outgoing premier, who could be indicted for corruption, has also vowed to exercise his right to stay on in a caretaker capacity until Livni forges her own, new coalition government.
That process, involving deals with ambitious Labour party leader Ehud Barak on the left and influential Jewish religious parties on the right, could take weeks or months. Many believe there may yet be an early parliamentary election, which polls show Benjamin Netanyahu's right-wing Likud would win.
"You were just incredible," Livni said in a conference call to supporters that was broadcast on Army Radio.
"I just want afterwards not to disappoint any of you and to do all the right things that you fought for."
Mofaz aides said he had no plans to speak until Thursday and would not concede defeat until the final results were confirmed.
Exit Polls
Exit polls by two Israeli broadcasters gave Livni 47 to 49 percent of votes cast on a turnout of about half of Kadima's 74,000 members. That was comfortably ahead of Mofaz on 37 percent and well above the 40-percent threshold needed to avoid a runoff second round.
Kadima, founded in 2005 by then premier Ariel Sharon, has just a quarter of the seats in the Knesset. Rivals, some within Olmert's coalition, are preparing for a national election battle well ahead of the next scheduled parliamentary vote in 2010.
"This is the beginning of a very arduous road to become prime minister," former Sharon adviser Raanan Gissin said.
"She needs to reach a consensus at home because otherwise Kadima will fall apart at the seams."
As chief negotiator in the peace talks with the Palestinians launched by U.S. President George W. Bush 10 months ago, Livni is widely seen as offering continuity in that process. But few on either side see a major breakthrough for peace before Bush himself leaves office four months from now.
Olmert has vowed himself to try to see a deal through.
Chief Palestinian negotiator Ahmed Qurie told Reuters: "Because Livni was immersed in the peace process, we believe she will pursue peace moves with us.
"We welcome the choice of the Israeli people."
Political analyst Shmuel Sandler said: "It is very difficult to predict whether she will be a strong prime minister."
But he noted her personal ties with U.S. Secretary of State Condoleezza Rice and said: "In Washington they will be very pleased with this outcome; she is a good friend of Condoleezza."
Hailed by supporters as a "Mrs Clean" who would end the taint of scandal left by Olmert and others, Livni said in a campaign statement earlier on Wednesday: "This is
a second chance to shape Israel's image
, to fix the damage."
A career lawyer whose husband is a prominent entrepreneur, Livni is seen as offering continuity with the market-oriented economic policies of the outgoing government.
Sandler said: "She looks like 'Mrs Clean' which gave her impetus and the media was on her side. But she will still have to form a coalition. Although if the margin of her victory turns out to be as big as the polls suggest it should make it easier."
(Additional reporting by Jeffrey Heller, Adam Entous, Ori Lewis and Dan Williams in Jerusalem, Writing by Alastair Macdonald, Editing by Robert Hart)