The sunset is beautiful in Gilchrist - within just a few minutes the sky goes from red to indigo and then to a wide range of grey before turning the black of night.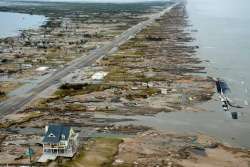 ©EPA/Smiley N. Pool
A single house is left standing on the waterfront near Gilchrist, Texas, USA on 14 September 2008 following the destruction along the Texas coast. As Hurricane Ike slowed to a tropical depression after carving a path of destruction through Texas, rescuers were using everything from dump trucks to boats and helicopters to reach stranded residents.
The sunset is, indeed, almost the only thing left unchanged in what was until the arrival of Hurricane Ike a tourist village south- east of Houston with some 750 residents.
The storm only left three to eight houses standing, and they all suffered severe damage. There is no trace of the remaining 200 homes in the village whose population swelled in the summer.
The hurricane, with wind speeds of 175 kilometres per hour, and the tide with a storm surge of 6-8 metres, devastated absolutely everything.
There are no lamp posts, nor house foundations, nor street signs. There are no streets at all, even if a GPS would insist that the avenues called Paisley, Mabry or Van Zant are on the right. Everything is a vacant lot covered in sand, weeds and a lot of water.
Within a radius of some 20 kilometres, the typical scene until last week used to be a bunch of cows, grazing. Now it all looks like a huge rice field in which a few farmers are waist-deep in water in an effort to regroup visibly startled cattle.
Alligators are the new bosses in town, and they even square up to rescue vehicles - the only ones that have access to the partially- flooded road.
Everything was swept out to the Gulf of Mexico or to Galveston Bay, says Aaron Reed, a spokesman for Texas Parks and Wildlife. The department's job usually has a much different focus, but they too have put their boats in the service of rescue efforts following the hurricane.
With flat-bottomed boats fit for marshland, on Sunday alone they got 30 people out of the extreme south-east of Galveston Bay, some 100 kilometres from Houston. On Monday it was only four people, all of them members of one family who took refuge in their attic alongside their cats and dogs.
However, there was no sign of Gilchrist residents, dead or alive. The authorities hope that they all chose to evacuate, but they know there is always a group of stubborn individuals who opt to stay. And the chances that they survived are zero.
'We have reports of missing people. When the water backs off we guess we will find some bodies,' Reed explained.
The authorities were most fearful about Galveston, where the eye of the hurricane made landfall early Saturday. However, devastation is far greater to the north on the Bolivar Peninsula - Gilchrist has been destroyed, in High Island several houses have been pulled down and the local gas station is under 1.5 metres of floodwater.
No one but rescue teams has made it to the rest of the peninsula, and they describe horrifying scenes.
'At Crystal Beach there are barely a few houses standing, although it is better than Gilchrist, and there was also substantial damage in Port Bolivar,' Reed said.
It is now night-time in whatever is left of Gilchrist, and a vehicle can be seen approaching from the south-west, from an impossible origin. The bridge linking the two parts of the peninsula has been virtually destroyed, but Bobby Anderson manages to cross it in the dark on the truck that he himself carefully cleaned up of sand and water.
He is hungry and thirsty, after several days of eating raw meat and drinking the thaw water from his freezer.
When the storm came, this 56-year-old construction worker was carried off by a wave. He managed to swim to his neighbours' house and he survived there until the hurricane died off. His partner did not make it.
But Anderson refuses to talk about that. He would rather devote his energy to criticizing rescue teams, who refused to give him food in an attempt to get him to leave.
'I did not like the idea of being taken from one place to another without knowing where I was going,' Anderson says to explain why he stayed put despite the warnings.
He left behind some 20 friends who had taken refuge at the Baptist church in Crystal Beach in order to drive to Gilchrist.
'I hope to be able to see them again some day,' he says, and his voice breaks for the first time.
He promises to return as soon as he is allowed to, because he claims he left a lot of expensive computer equipment at his home.
Without getting down from his truck on what was once the Gilchrist seafront, Anderson closed off his reunion with the rest of humanity with an improvised elegy to the village that is no longer there.
'It had several rows of houses on both sides of the road. Some of the houses were very beautiful and very well built, it looked like they could stand any storm.
But it seems that this was no ordinary storm
,' he says.