Patna - At least 50,000 people in India have refused to abandon their homes in flood-ravaged northern Indian despite pleas by authorities to evacuate, an official said Sunday.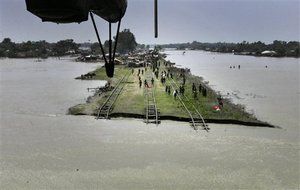 ©Unknown
Newspaper advertisements also urged thousands of flood survivors Sunday to go to one of 77 state-run camps set up in Saharsa district in impoverished Bihar state, where clean drinking water, food and medical care was available.
At least 50,000 people have refused to leave the district, one of the worst-affected areas in Bihar, said Prataya Amrit, a state disaster management official. Towns and villages in the flooded region are home to about 1.2 million people.
Rescue workers have evacuated about 900,000 villagers, but with river levels falling by up to two feet over the last few days, thousands began to return to their homes, Amrit said.
The Kosi River, which flows down from the Himalayas in neighboring Nepal into India where it joins the Ganges River, burst its banks Aug. 18 and dramatically shifted course, moving dozens of miles to the east.
It turned hundreds of square miles of land in Bihar into a giant lake.
On Saturday, government engineers began digging a new channel to correct the course of the river and plug the mile-long breach in the embankment.
Disaster officials have not said when it would be safe for villagers to return, and displaced residents may have to remain in camps for several months. Most areas will likely remain flooded until monsoon rains taper off in November, officials say.
The government has set up more than 250 relief camps throughout the inundated region and rushed about 900 doctors and medical supplies there.
Already hundreds of cases of pneumonia, diarrhea and high fevers have been reported. Doctors started immunization drives Saturday in the shelters to counter fears that waterborne diseases will spread as the number of camp residents grow.
Authorities have only confirmed 38 deaths, but it is widely believed the final toll will be much higher.
In neighboring Bangladesh, the Flood Forecasting and Warning Center in its latest bulletin Sunday said most major rivers were flowing above the danger mark and floodwaters were only likely to start receding by the end of next week.
The government gave no details about the number of people killed in Bangladesh, but news reports have said at least 19 people have died over the last two weeks.
The monsoon season, which runs from June to September, brings rain vital for the farmers of South Asia but also can cause massive destruction.