Manila - Two landslides triggered by heavy rains buried more than 20 houses in a remote gold-mining village in the southern Philippines, leaving at least 11 people dead and 19 others missing, officials said Monday.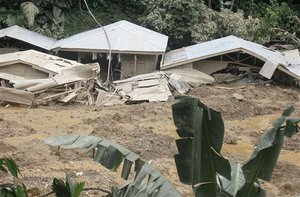 ©Unknown
Small stone houses and huts at the foot of the mountain village of Masara were destroyed Saturday by falling mud and rocks, killing six villagers and injuring 17 others. Another landslide struck the village early Sunday, killing five more people.
The landslides, which cascaded down a mountainside with frightening booms, buried about 28 houses and forced up to 5,000 people in Masara and nearby villages to run for their lives, said Mayor Voltaire Rimando.
Rimando said he declared a state of emergency in Masara, which he described as a "no man's land" because of the danger and the devastation, to allow the rapid release of disaster relief funds from the town's coffers.
Rimando said heavy rains made rescue work too dangerous Sunday, but rescuers resumed operations Monday. They had not yet entered many areas where victims were buried because the soil was too wet, he said.
"Hopefully the weather will cooperate," he added.
Provincial Governor Arturo Uy said he would request more expert rescuers from the national government and private groups, and enlist the help of geologists from two leading universities in Manila.
Army and police, backed by two air force helicopters and workers from a gold-mining company, battled heavy rains and mud to search for villagers reported buried, regional police Chief Andres Caro told The Associated Press by telephone.
Among the missing were Masara village chief Juvencio Anquera, who helped in the rescue work following the first landslide. He went missing with his two children when their house was hit by the second landslide Sunday, Caro said.
The landslides occurred in Compostela Valley province, about 520 miles southeast of Manila.
Roger Corales, who escaped unharmed, said Saturday he saw people crying for help as they disappeared under the falling earth, their hands grasping desperately for something to hold on to.
A landslide last year killed 10 people in the same village, prompting the Bureau of Mines and Geosciences to recommend that the landslide-prone area be abandoned. But many villagers, who depend on the local gold-mining industry for a living, refused to leave, Caro said.