Up to 95mm of rain has fallen in southeast Queensland today, and it's been in all the right places. What's more, it's set to continue for another 24 hours.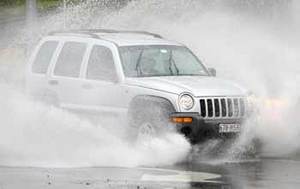 ©Peter Wallis
Waterworld... Cars drive through a pool of water on Newmarket Road. Brisbane is expecting heavy rain Thursday.
Dams, water tanks and gardens have benefited from the widespread falls, which have ranged from 40mm over Brisbane's dam catchment areas up to 95mm near Coolum on the Sunshine Coast.
More rain is expected tonight and tomorrow, with storms predicted offshore and in the southeast.
The three catchment areas, Wivenhoe, North Pine and Somerset dams, have received between 15mm and 40mm in the past 24 hours. "By tomorrow afternoon between 50mm and 75m of rain will have fallen around Brisbane," a Bureau of meteorology spokesman said.
A Bribie Island reader reported 45mm had fallen there, with streets awash in the area. South of Brisbane, Cornubia reader Don Cairns reported 23mm of rain by 1pm.
And there's more rain to come, with falls across the region expected to deliver about 100mm and create local flooding.
Earlier today, Bureau of Meteorology senior forecaster Gavin Holcombe said a low pressure system moving across the state would see heavy rainfall and gusty winds near the Gold and Sunshine Coasts today, with the potential for localised flash flooding.
"It's a possibility that we'll have falls in excess of 100mm," Mr Holcombe said. "Streams will rise fairly quickly with those types of falls."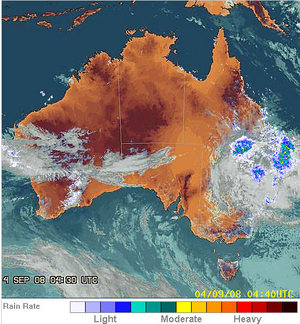 ©Australian Bureau of Meteorology
Current radar and satellite data for Australian weather - 4 September 2008.
Wild weather hit Brisbane this morning with strong winds and patchy showers expected to make way for some solid rain tonight. Gusts of up to 80km/h have been recorded at Cape Moreton but Mr Holcombe said the winds should not get any stronger than that.
"They'll turn north north-east in the afternoon so conditions will ease a bit ahead of this rain event this evening," he said.
The rain has already delivered a decent soaking across the central interior with falls of 30mm and above. Blackall topscored with 39.4mm, Emerald received 32mm and Charleville 31.6mm.
Longreach, Isisford and Tambo also did quite well out of the upper trough but north-western centres including the drought ravaged Cloncurry largely missed out.
"Mt Isa got about 3mm and Cloncurry got something (0.6mm) but not much," Mr Holcombe said.
The rain is expected to reach the south-east by tonight with falls of around 50mm expected over a widespread area. Overnight Brisbane Airport received just 3mm and the City 0.2.
"It's a low pressure system, and as it comes down it will spread," Mr Holcombe said. "We'll see heavy rain at the back of the Gold and Sunshine Coast, with gusty winds."
The rain is expected to be heavier through Thursday night with strong coastal winds, but Mr Holcombe said weather should clear by late Friday morning.
The unseasonable rainfall has been brought by a low pressure system that formed as an upper trough moved eastwards from central Australia.