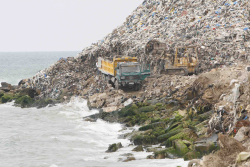 ©Unknown
Sidon: Part of the mountain of waste on the Sidon seafront collapsed into the sea yet again Tuesday, sending tons of garbage into the water and the so-called "buffer zone" set up between the sea and the dump's edge. Sidon's municipality rushed to send a bulldozer to move rubbish from the buffer zone only, while great quantities of waste sank into the waters.
The buffer zone had been established between the dump and the sea in a bid to prevent waves from reaching the waste.
The dump, towering about 20 meters high in Lebanon's third-biggest city, has partially collapsed into the Mediterranean several times, prompting complaints from Cyprus, Syria and Turkey after currents swept rubbish onto their beaches.
The Sidon dump, originally created to dispose of debris from buildings bombed during Israel's 1982 invasion of Lebanon, threatens public health, marine life and the livelihood of fishermen. A treatment plant near the dump, designed to process waste into fertilizers, gas, liquefied gas and even electricity, was to have been completed in 2005, but is still not functioning.
The trash heap, which continues to grow in size, still expose the Southern port city to serious environmental hazards.