Guwahati - Heavy rains and rising floodwaters forced hundreds of thousands of people from their homes in northeastern India and sent elephants and rhinos fleeing, as monsoon misery spread in South Asia.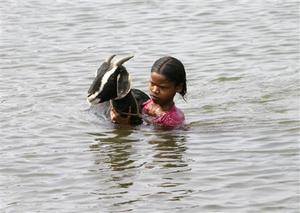 ©REUTERS/Rupak De Chowdhuri/Files
A girl holds a goat as she makes her way through floodwaters at Chandpura village of Madhepura district in India's eastern state of Bihar, August 31, 2008.
In the eastern Indian state of Bihar, desperate flood victims attacked a warehouse and looted food supplies, while in neighboring Bangladesh major rivers rose to danger levels and fresh parts of the country were submerged.
In the northeastern state of Assam, heavy rains caused water levels to rise on Tuesday, affecting more than a million people and disrupting road networks for the second consecutive day.
Animals fled to higher ground in Kaziranga National Park after the Brahmaputra burst its banks and flooded most of the park, home to more than half of the world's population of one-horned rhinoceros.
At least two rhino calves were drowned and a herd of 100 elephants were swept away by floodwaters, forest officials said.
"We are now worried the poachers will take advantage and kill rhinos and elephants as they are moving out of the protected areas to safer ground," said chief warden S. N. Buragohain.
In Bihar, the floods have already displaced about three million people and killed at least 90.
Hundreds of stick-wielding villagers ransacked a food warehouse in Madhepura district and looted food packets while police guarding the warehouse ran for cover. Government vehicles carrying food were also looted.
"We cannot stop incidents despite our best efforts," Bijendra Prasad Yadav, a state relief official, told Reuters. "These are very common during flood time."
Many villagers in impoverished Bihar have been marooned on rooftops for days with nothing to eat, while some have taken to eating plants and leaves to survive.
The Kosi river burst a dam in Nepal late last month flooding hundreds of villages across the state and destroying 100,000 ha (250,000 acres) of farmlands.
Television images showed desperate villagers driving their livestock into the Kosi river because they had no food for them.
Since the monsoon began in South Asia in June, more than 1,000 people have died in floods, with most of the casualties recorded in India's northern state of Uttar Pradesh in July.
Some experts have blamed the floods on heavier monsoon rains caused by global warming, while others say authorities have failed to take preventive measures and improve infrastructure.
NOT WELCOME HERE
Although floodwaters are rising in Assam and Bangaldesh, water levels in Bihar are receding and the government aims to evacuate all stranded villagers within the next three days.
Aid agencies have criticized the government's handling of the crisis saying they should have done more to anticipate the disaster and plan relief operations since the region is hit by monsoon flooding every year.
In Bihar, more than 560,000 people have been evacuated so far, and some 200,000 have been moved to government relief camps, officials said.
Local media reported that the first train carrying Bihar flood victims reached New Delhi on Monday, complaining of having received little or no government help.
"The fields are flooded. There's no way I can sustain my family in the next six months," Gopal Punia, a farmer from Madhepura was quoted as saying by the
Indian Express
newspaper.
"I will try to find work here in Delhi."
Bihar state officials have also said flood refugees would not be welcomed in Patna, the state capital.
"They should return to their respective places by the same trains," said Raj Kumar Singh, a disaster management official.