This weekend, observers around Europe are reporting the same "volcanic sunsets" widely observed last week in North America. "The evening sky on Aug 29th was conspicuously purple," reports Marco Langbroek of Leiden, the Netherlands.
"This was probably due to aerosols in the stratosphere spewed by the August 7th eruption of the
Kasatochi
volcano in the Aleutian Islands." He photographed the display using his Canon 450D: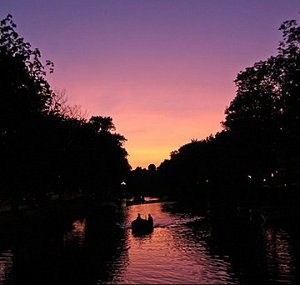 ©Marco Langbroek
Michiel de Boer of Amstelveen, the Netherlands, was on vacation in the USA last week. "I witnessed the volcanic sunsets there," he says, "and the ones I'm
seeing
now in the Netherlands look much the same. The 'smoke' of the Alaska volcano seems to be moving around the globe."
Meanwhile, back in the USA, "the sky is on fire," reports Doug Zubenel of Kansas. "The colors tonight (Aug. 30th) were about as vivid as I have ever
seen
." One state away in Nebraska, Jerry Chab reports "the sky was white at the horizon and turned yellow, orange, red, purple, blue then finally black up high (
photos
). It was like a rainbow in clear skies!"