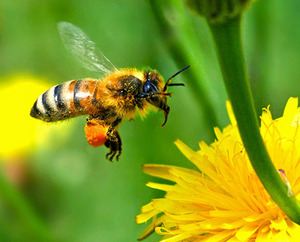 ©Autan via flickr
Last week we reported on a
lawsuit
filed by the NRDC which seeks to force the EPA to turn over test results for a Bayer CropScience insecticide which may be linked to colony collapse disorder. The insecticide in question, clothianidin, was banned in Germany in May because of its potential harmful impact on bees.
In Court Over Clothianidin
Taking it one step further, German organization
Coalition Against Bayer Dangers
has brought legal action against the chairman of Bayer AG's Board of Management, Werner Wenning, accusing Bayer CropScience of "marketing dangerous pesticides and thereby accepting the mass death of bees all over the world."
The coalition, working in cooperation with German beekeepers, alleges that the start of clothianidin and imidacloprid (Bayer's best-selling pesticide) sales coincided with large scale bee deaths in Europe and North America.
ENS
reports that in France 90 billion bees have died over the past 10 years and honey production has been reduced by 60 percent. In the United States the NRDC reports that beekeepers have lost anywhere between 30-90% of their hives.
Risks Known for 10 Years
A spokesman for the Coalition Against Bayer Dangers said,
Bayer's Board of Management has to be called to account since the risks of neonicotinoids such as imidacloprid and clothianidin have now been known for more than 10 years.
Adding that,
With an annual turnover of nearly 800 million euro, neonicotinoids are among Bayer's most important products. This is the reason why Bayer, despite serious environmental damage, is fighting against any application prohibitions.
When Used Correctly, Product is Safe: Bayer
For Bayer's part, a Bayer CropScience ecologist, Dr Richard Schmuck, has said that,
All studies available to us confirm that our product is safe to bees if the recommended dressing quality is maintained. This is also shown by the product safety assessments which we have submitted to the registration authorities. When used correctly, this crop protection product is safe for operators, consumers and the environment, and fulfills the international criteria with regard to ecological systems.
Bayer maintains that clothianidin has entered the environment because farmers have not used the pesticide properly - failing to use an adhesive agent which fixes the pesticide to the seed coats.
Bayer Passes the Buck
Ah, nothing like passing the buck. Even if entirely accurate, to my mind, at the absolute naked bare minimum a shared responsibility needs to be acknowledged by Bayer on this one. Even the US EPA, the same agency which won't even disclose whether Bayer filed the proper paperwork before clothianidin was registered in the United States, admits that this class of pesticides as a whole can be highly toxic to honey bees. What sort of compensation, if any, should be awarded is open to debate but passing responsibility entirely over to farmers is unacceptable.