New Orleans -- Three years after Hurricane Katrina slammed into the Louisiana coast, New Orleans residents on Wednesday again confronted the prospect of an evacuation as Tropical Storm Gustav loomed.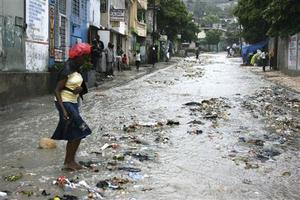 ©REUTERS/Evens Felix
A woman walks during rainfall caused by Hurricane Gustav in Port-au-Prince August 26, 2008.
Not since Katrina struck on August 29, 2005, have residents faced a forced departure from their homes and businesses as many still struggle to rebuild their lives in a city famed for its jazz clubs and Mardi Gras festival.
Storm levees broke under the onslaught of Katrina, flooding 80 percent of New Orleans and killing almost 1,500 people in the city and along the Gulf of Mexico coast. The hurricane caused $125 billion in wind and flood damage.
With Tropical Storm Gustav swirling near Cuba and likely to enter the Gulf of Mexico as a hurricane this weekend, Louisiana Gov. Bobby Jindal said an evacuation could begin as early as Friday -- three years to the day after Katrina inundated New Orleans.
Jindal said he had activated the state's catastrophic action team and could declare a state of emergency as early as Thursday. He also put the Louisiana National Guard on alert.
"We all need to be prepared and ready to respond, from the citizen level and at every level of government," Jindal said.
Jindal, elected as governor in October 2007, is hoping to avoid heavy criticism that fell on his predecessor, Kathleen Blanco, for not reacting quickly enough after Katrina.
Federal agencies and the New Orleans city government also faced the wrath of residents over their response to the disaster, while President George W. Bush was criticized for his role, including his initial decision to view the devastated city only from the air.
After Katrina, chaos broke out in New Orleans as stranded flood victims waited days for help. Many residents who fled the hurricane have not returned.
On Wednesday, Gustav drifted away from Haiti and the Dominican Republic after killing 16 people. Forecasters warned the storm may still become a dangerous hurricane in the Gulf of Mexico, with their models showing it most likely on track to hit anywhere from the Florida panhandle to Texas.
Jindal said if the threat continues, his state could make 700 buses available for assisted evacuations, which could begin on Friday for people who need help due to medical or other conditions.
He advised other residents of the southern parishes to review their own emergency plans and be prepared to evacuate if an order is given.
The state's Office of Emergency Preparedness held a conference call on Wednesday afternoon with the presidents of all area parishes and emergency personnel to review current conditions and disaster plans.
The Louisiana SPCA announced it would shut down its shelter and begin evacuating the animals to other shelters.