Miami - Hurricane Gustav barreled toward vulnerable Haiti on Tuesday and appeared set to become a "major" storm later in the week as it neared the Gulf of Mexico where the United States produces a large amount of oil and gas.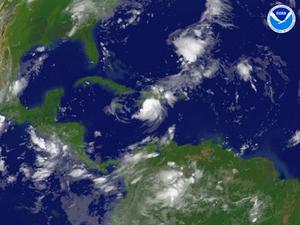 ©REUTERS/NOAA/Handout
Hurricane Gustav is seen in a satellite image taken August 26, 2008.
The 7th storm of the 2008 Atlantic hurricane season had top sustained winds of 85 miles per hour (140 km per hour) by 5 a.m. EDT, making it a Category 1 hurricane on the five-step Saffir-Simpson scale of storm intensity, the U.S. National Hurricane Center said.
Gustav was likely to become a Category 2 storm before striking the southwestern peninsula of impoverished Haiti later on Tuesday and then move westward south of Cuba over deep warm waters that provide tropical cyclones with fuel.
"The official intensity forecast is increased and now calls for Gustav to be a major hurricane in the northwestern Caribbean sea," the Miami-based hurricane center said in a discussion item on the storm.
"Most indications are that Gustav will be an extremely dangerous hurricane in the northwestern Caribbean sea in a few days."
Category 3 and higher storms are called "major" hurricanes and are the most destructive. Hurricane Katrina was a monstrous Category 5 storm in the Gulf of Mexico in August 2005 before killing 1,500 people on the U.S. Gulf coast and devastating the city of New Orleans as a Category 3 storm.
Computer models used to forecast storm tracks indicated Gustav was likely to enter the Gulf of Mexico near the western tip of Cuba and then track northwest, toward areas where offshore platforms produce a quarter of U.S. crude oil and 15 percent of its natural gas.
Energy markets have watched Atlantic tropical storms and hurricanes closely since the hurricane seasons of 2004 and 2005, when a series of storms, including Katrina, severely disrupted production and sent oil prices to record levels.
TORRENTIAL RAIN THREAT
The more immediate threat was heavy rainfall in Haiti, a country of 9 million that is vulnerable to deadly mudslides and flash floods because its hillsides have been stripped of trees by people seeking charcoal for cooking fuel.
In 2004, Tropical Storm Jeanne was blamed for flooding that killed around 3,000 people. Spring floods earlier that year had already killed another 2,000 Haitians.
Gustav threatened the Caribbean nation with 5 to 7 inches of rain, with the possibility of up to 25 inches in isolated areas, the hurricane center said.
Hurricane alerts were issued for parts of the Dominican Republic, Haiti and Cuba. Dominican President Leonel Fernandez declared a partial state of emergency as the storm began dousing his country's southern coast.
Gustav was about 100 miles south-southeast of Port-au-Prince, the crowded Haitian capital, at 5 a.m. EDT and was moving toward the northwest at near 9 mph (15 kph).
Haiti was lashed last week by Tropical Storm Fay, the remnants of which were still causing flooding across the U.S. southeastern states. Fay may have killed more than 50 people in Haiti, including dozens missing after floodwaters swept a bus down a river.