Tornadoes touched down just outside Denver amid stormy weather on the eve of the Democratic National Convention, the US National Weather Service said.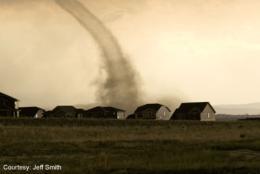 ©Jeff Smith
The service issued tornado warnings for four counties immediately south and east of Denver, but not for the city itself.
"Numerous trained weather spotters reported several tornadoes between Parker and Castle Rock," two towns south of Denver, the National Weather Service said in a bulletin.
It reported a large tornado in southern Arapahoe county, east of Denver, at 5:47 pm (2347 GMT).
Local television channel KUSA showed a huge funnel cloud touching ground in relative open country around Parker, about 40 kilometers (25 miles) southeast of downtown Denver.
Senator Barack Obama is set to be crowned the Democratic candidate for president at the August 25-28 gathering, which has drawn some 50,000 people to the "mile high city" in the Rocky Mountains.
Obama, in a break with tradition, is to deliver his acceptance speech not at the convention venue but at the nearby Invesco football stadium, which seats some 70,000 people.
Tickets for the outdoor event have already all been snapped up.