Australia - Southeast Queenslanders have been promised they will never again face the extreme water restrictions they have endured through the long drought.
Deputy Premier Paul Lucas said today that while "we can't control the rainfall...we can certainly make sure we will never face extreme level water restrictions again".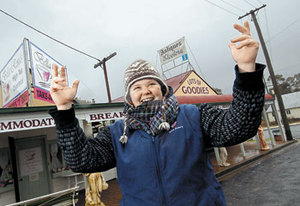 ©Courier Mail
Snow business ... Nat Burton, of the Bella Rosa Tea Rooms at Thulimbah, near Stanthorpe, rugged up yesterday.
Recent rain is expected to lift the combined level of the region's three dams, Wivenhoe, Somerset and North Pine to 40 per cent this afternoon - the trigger for tough level six water restrictions to be relaxed.
Premier Anna Bligh says that means residents - who have endured Level 6 restrictions - will be able to use town water to wash their cars and hose their gardens as soon as next weekend.
Ms Bligh said it would take about a week for the new restrictions to come into effect. Under the changes residents will be allowed to hose for up to 30 minutes on Saturdays or Sundays. Residents will be encouraged to keep their average daily use to 170 litres a day, up from the current 140.
Ms Bligh welcomed the news, which comes a year to the day after the Target 140 campaign was launched, but said it did not allow residents to waste water.
"I think after all of the efforts that people from the southeast have put in, they deserve a bit of relief," she said. "The dams hitting 40 per cent are no excuse for us to be out wasting water - we will still be on restricted water use, but it does give us the chance to have some slight relief."
Seqwater, which manages the dams, today said the combined levels lifted by 0.32 per cent of capacity last night and would reach 40 per cent late today. Up to 43mm has fallen in parts of the Wivenhoe catchment in the past four days while Somerset has received up to 61mm and North Pine up to 68mm.
The long-awaited water storage milestone came after wild weather across the southeast.
Yesterday, there was snow near Stanthorpe, 7m seas off Stradbroke Island and gales on the Sunshine Coast. Wind and heavily overcast conditions brought bizarre temperature drops to the southeast, with Brisbane recording a maximum of 13.8C.
Exposed parts of the coast suffered the most. Double Island Point recorded a top of 8.4C at 5am, dropping to 2.4C by 1pm. Cape Moreton managed a top of 5.6C at noon.
Toowoomba reached a maximum of 4.6C due to the wind chill factor. Applethorpe in the Granite Belt was 3.8C at noon.
Nat Burton of the Bella Rosa Tea Rooms at Thulimbah, near Stanthorpe, said flurries of snow were increasing. "It's miserable but the rain has made the district absolutely beautiful," she said.
Senior forecaster Brett Harrison said snow flurries on the Granite Belt was "interesting" but not unusual for that area and this time of year.
Mr Harrison said the unusually chilly temperatures prompted by the heavy cloud and rain would warm up to a maximum around 20C tomorrow.
Brisbane recorded an average 10mm to 12mm of rain through the day.
The dams
received falls to 31mm overnight. Inland from Mackay, falls up to 120mm were recorded in the 24 hours to 9am.
Central Queensland's Middle Island recorded a wind gust of 94km/h, with gusts of about 90km/h further south at Double Island Point. The chilly, wet and windy conditions in the southeast are expected to ease into a largely fine, warmer weekend.
But the reprieve from the wet conditions will be brief, with more showers expected late Sunday and into Monday - though not as heavy or as widespread.
The rain also played havoc with roads, with a large pothole forming on Johnson Road near Stapylton Road, at Heathwood. Mr Harrison said about 30mm had falled in catchment areas in the past few days. "There will be some inflows but I think it will be difficult to get to 40 per cent total storage," he said.
Mr Harrison said about 60mm had falled across Brisbane in the past few days, but July was far from being the wettest month on record. He said about 90mm had fallen this month - the record was set in 1973 with 330mm.
Mr Harrison said a gale force wind warning was still in place for Cape Moreton to Sandy Cape, but was expected to be downgraded to a strong wind warning this afternoon. Winds are expected to drop to 25-30knots, and ease even further closer to shore, with an off-shore swell of three to four metres.