The cause of a mysterious flourish of yellow spots that plagued a Flintshire town remains a mystery, despite months of meetings and inquiries. And now there are fears the problem could be spreading.
In December last year, residents in Garthorpe Avenue, Connah's Quay, raised concerns after they noticed strange yellow spots appearing all over their cars, windows and washing.
Resident Dave Webster was so concerned at the effect that the strange spots could be having on his and his neighbours' health, he posted questionnaires through all the doors in his street, asking people to confirm whether they had experienced problems.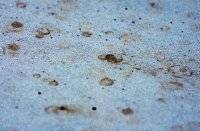 ©Unknown
The spots on a resident's car.
He received responses from almost all of the recipients confirming that they had and contacted both the Environment Agency and Flintshire Council to see if some tests could be carried out.
Speaking when the problem was at its worst, Mr Webster said: "It started in early August. We found yellow spots all over our washing that had been drying on the line and they would not come off.
There were also yellow spots all over our window sill, which are still there as they have burnt into the PVC, and yellow spots all over a lot of the cars in the street."
But despite holding meeting with county councillors and environmental officers, he has had little success in pinpointing the source of the spots.
Speaking to the Leader yesterday, Mr Webster said: "Although we are not finding as many of the spots in our road, neighbours in nearby streets have told me that they have started to discover them.
"We still haven't got a clue what is causing it and I have been told that the exact same thing happened in this area a few years ago.
"We seem to have hit a bit of a dead end in finding out the cause but we are still looking into it and are still worried about it and would like the Environment Agency to carry out some more tests."
A spokesman for the Environment Agency Wales said today: "We received complaints of yellow spotting on vehicles around September 2007, which were investigated at the time.
"No further complaints have been received to date."