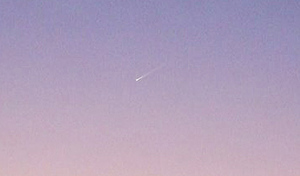 ©Daniel Shabodia
The meteorite, as seen above Machmoret, Israel
Between 8:25 - 8:30 pm tonight, in the town of Larnaca (Southern coast of Cyprus) I was walking by the beach when I saw in the sky something like a ball of fire moving slower than a usual falling star, followed by a bright pink/red tail. Other people on the beach saw it as well and kept talking and wondering about it.
None of us saw anything like this before. It must have been much closer to the earth than "regular" falling stars, because we kept seeing it crossing the sky for about 10 seconds before it disappeared from view behind some tall buildings.
It seems to have been going north, somewhere over Turkey, or maybe even Greece.