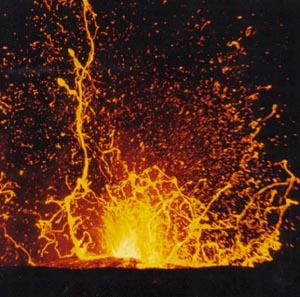 ©Unknown
Study Discovers Lava Spewing Activity
In a series of different expeditions on the Arctic Seafloor, there have been a number of volcano spots located that are actively spewing red-hot lava out of the seafloor.
It has revealed itself as an explosive geographical location, with fountains of molten lava and gas that are springing out of different volcanoes under the sea near the North Pole.
The researchers that went in search of ocean floor conditions near the North Pole were surprised to discover the intensity and variety of volatile activity beneath the Arctic Ice.
The returned from their exploration and journey to the North Pole with data and images showing off red hot locations where Magma and rocks rise from deep in the Earth's Core.
Jets and fountains of material are sometimes blasted up to two kilometres up into the water, beneath the ice.
The study and research expedition was conducted by Geophysicist Robert Sohn of the Woods Hole Oceanographic Institution.
They journeyed to the North Pole and their entire expedition is described in the journal "Nature Today," including the estimate that some of the underwater volcanoes have activity that expel rocks and lave at more than 500 metres a second.