Fifty residents along Escambia Bay are suing the companies they say are responsible for polluting the water and fish near their property with cancer-causing industrial chemicals.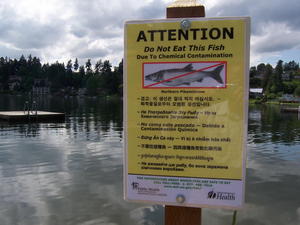 ©Washington State Department of Health
The lawsuit filed in Circuit Court names Monsanto Co., Pharmacia Corp., Solutia Inc. and the Solutia plant manager as defendants.
It claims past and "continuing release" of polychlorinated biphenyls, or PCBs, from a plant now operated by Solutia on Old Chemstrand Road.
The former Monsanto plant has been operated since 1997 by Solutia, a subsidiary of Monsanto Co. Monsanto, founded in 1901, was acquired by Pharmacia in 2000, which in 2002 completed a spinoff of its biotechnology and agricultural businesses to form the current Monsanto Co.
The plaintiffs, who all live downstream from the plant, are seeking unspecified damages. They also want cleanup of the water and sediments in the bay and river, claiming that their property values have been or will continue to be hurt by PCB contamination.
Attorneys for the plaintiffs include Pensacola-based Sam Bearman and Anniston, Ala.-based Donald Stewart. Stewart filed a successful multimillion-dollar class action lawsuit against Monsanto related to PCB contamination in Anniston.
Bearman said cleanup of Escambia Bay and connected waterways is a top priority for the plaintiffs: "My clients have made it clear that is goal No. 1," he said.
Glynn Young, spokesman for Monsanto, said PCBs were never manufactured at the Escambia plant.
"The plant, like most of American industry, used PCBs in transformers, as hydraulic fluids and in other applications until the late 1970s," he said.
In 1969, a government laboratory found that the former Monsanto plant was discharging 1 to 32 gallons of hydraulic fuel containing PCBs into the Escambia River a day. The toxic releases reportedly did not stop until the early 1970s.
"Any alleged PCB contamination related to the plant stems from a leak that occurred in 1969, nearly 30 years before Solutia existed," said Solutia spokesman Dan Jenkins.
He said a legal agreement between Monsanto and Solutia places the responsibility for that leak on Monsanto.
But Monsanto's Young said there was no health threat by PCBs in local waterways.
"The tiny amounts of PCBs reportedly found in the Escambia River and bay pose no threat to human health, wildlife or the environment," Young said. "The lawsuit is without merit, and Monsanto will vigorously defend itself against it."
Recent fish samples taken from the middle of Escambia Bay by researchers at the University of West Florida found PCBs in mullet and other fish that were several times higher than state and federal thresholds.

Previous samples from the lower Escambia River prompted a health advisory for some fish caught there.