DES MOINES - "Nearly one third of Iowa is already under water and water levels continue to rise," said U.S. Senator Chuck Grassley of Iowa, urging federal financial assistance for his state. Waters are still rising in many parts of the state and the president responded.
On Sunday, after touring some of the worst flooded areas, U.S. Senator Tom Harkin of Iowa announced a federal disaster declaration for 13 Iowa counties - Adam, Boone, Cerro Gordo, Crawford, Dallas, Dubuque, Floyd, Franklin, Marion, Page, Story, Tama and Union, bringing the number of counties under this designation to 24.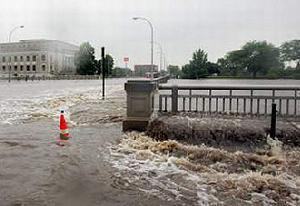 Photo courtesy Iowa DOT
Floodwaters hit 500 year high in Cedar Rapids.
Now that the counties have been declared, residents and businesses can begin applying for federal disaster assistance.
"These new disaster declarations are vital as we begin the recovery process in some parts of our state. Now more Iowans can apply for assistance and get the help they need," said Harkin. "Still, there is much more work to be done and I will continue to see to it that other affected counties receive federal assistance."
On the state level, Governor Chet Culver has issued a disaster proclamation for 83 counties. The governor's proclamation activates Iowa's individual disaster assistance program, which helps people with low incomes.
Meanwhile, the flooding, evacuations and road closures continue across the state.
The National Weather Service called flooding in Cedar Rapids a "historic hydrologic event" Thursday as the river over-topped its banks at 500-year flood levels, forcing the evacuation of nearly 4,000 homes.
A mandatory evacuation order is still in effect for parts of Cedar Rapids, which affects more than 20,000 people. Concerns remain for Cedar Rapids water treatment plant. Capacity has been reduced to 25 percent percent and city officials are asking people not to take showers or wash laundry, and to conserve water if they can.
Continuous rain and rising floodwaters of the Des Moines River caused an earthen levee to burst on Saturday forcing the evacuation of north-side Des Moines neighborhoods that affected more than 200 homes and flooding North High School.
The Birdland levee has been known as a weak spot in the city's flood-control system for years. Volunteers, city crews and Iowa National Guard troops worked to strengthen it on Friday, but the levee was poorly built in the 1950s and was further weakened over the years by tree roots, say officials of the U.S. Army Corps of Engineers.
More than 2,500 Iowa National Guard are deployed across the state, at least 750 of them in Des Moines.
More than 1,000 buildings are at risk and the raging Iowa River has cut Iowa City in half with record-setting flooding. Some 350 National Guard soldiers are currently deployed in Iowa City and local officials continue to work to protect critical structures within the area, including filling and delivering sandbags.
Local officials have ordered mandatory evacuations for several areas of Iowa City with more than 200 homes affected.
The worst flooding is yet to come, with Coralville Lake not projected to crest until Tuesday, with the river to follow at an estimated 1 a.m. Wednesday, according to the National Weather Service.
"While we continue to battle flood waters in the southeastern corner of our state, the flood waters are receding up north," said Governor Chet Culver Sunday.
"As we begin to focus our efforts on disaster recovery, this presidential disaster declaration will help thousands of Iowans get back on their feet," the governor said. "I have the utmost confidence that we will meet not only the challenge of flooding, but the challenge of recovery. Iowans are strong. Iowans are resilient. We will rebuild this state, and we will be stronger and better than before."
But many communities are a long way from disaster recovery.
At least 800 people were forced to evacuate Saturday afternoon from Oakville, Iowa after a levee broke along the Iowa River. Oakville city officials have said the town is a complete loss.
Water is rising behind the IC & E Railroad Bridge located downstream of the confluence of the Iowa and Cedar Rivers.
River levels have forced local officials to order an evacuation of the entire town of Fredonia, and lower portions of Columbus Junction.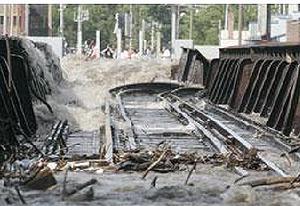 Photo courtesy Iowa DOT
Union Pacific railroad bridge washed out at Waterloo, Iowa
The city of Muscatine is completely cut off from the western part of the state because of flooding from the Cedar River.
The city of Davenport is bracing for a 21 foot crest of the Mississippi River early Monday morning.
Floodwaters have forced the evacuation of a section of Burlington, Iowa. Burlington officials said Sunday they still are awaiting delivery of protective barriers used in Iraq and Afghanistan to stop explosives that wno can be deployed to hold back the flood waters of the Mississippi River.
The Iowa Army National Guard purchased 29,000 feet of the HESCO Concertainer units, which are estimated to replace 1.4 million sandbags and save weeks of labor.
Made of a coated steel mesh framework lined with polypropylene, the integrated cells are expected to provide internal structural integrity. On site, Concertainer units can be quickly installed, since they are assembled during manufacturing. They can be filled with locally available material, with minimal manpower and using standard backhoe loaders or similar equipment.
Flooding continues to affect many roadways in the state, according to Iowa Department of Transportation officials. Interstate Highway 80, a major transportation route, remains closed in both directions at milepost 266 in Cedar County, just west of the Iowa 38 interchange.
I-80 may not reopen until the middle of the week, according to the Iowa Department of Transportation, depending on when the rain stops and any damage discovered to the roadway.
State officials have announced a
new website
which is designed to serve as a resource for Iowans affected by the flooding in Iowa.
"We are committed to helping Iowans get the information they need in a timely and efficient manner, and this new web site will help us do just that," said Lt. Governor Patty Judge. "Flood2008.iowa.gov will serve as a resource for people who want to know the latest information on flooding, and help those who have been affected by flood waters. And it will be an invaluable resource in the coming days, weeks, and months as Iowans begin the road to recovery."
As floodwaters have swept through the state, they've left many landowners wondering what to do with silt, sand and debris left behind in farm fields.
The Iowa Department of Natural Resources, DNR, is recommending that farmers do not move any debris, sand or sediment into a stream, as it can intensify the problems many Iowans are already facing. If sediment placed in the stream and washes away, it can cause damage downstream. Or, it can settle in place and cause water to back up into upland areas.
Placement of sand and debris into or near the stream may also be in violation of state and federal flood plain and water quality regulations.
"In many instances, DNR staff can assist landowners in finding an acceptable disposal site that will have an insignificant effect on flood flows and may not require a flood plain permit," said Kelly Stone with the DNR floodplain program. "We're considering landowner's requests for assistance as high priority and will review them as quickly as we can."
Landowners can call Kelly Stone at 515-281-4312 with questions on options and approval requirements.
As rainfall continues to pummel Iowa, the DNR is urging livestock producers to check their manure storage structures, which could be threatened by saturated soils.
Both concrete and earthen structures could be endangered if groundwater levels rise higher than were expected when the structure was designed.
Normally, the DNR's field office staff will work with producers to minimize risks and impacts if an emergency exists. But today, the DNR is asking producers in the eastern part of the state to contact a private consultant for assistance as field office staff are assisting beleaguered municipalities.